August 9
-leftover Kashi pizza
-organic raw spinach with homemade honey mustard & topped with a handful of blueberries and a few crushed glazed walnuts
-water
-3 mini gluten free oatmeal blueberry-raspberry muffins
-half of a chocolate peanut butter luna protein bar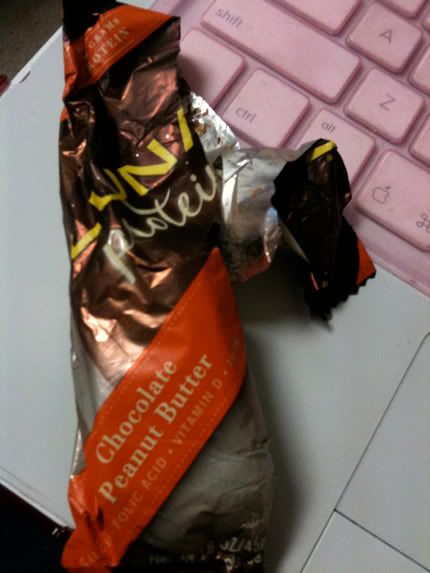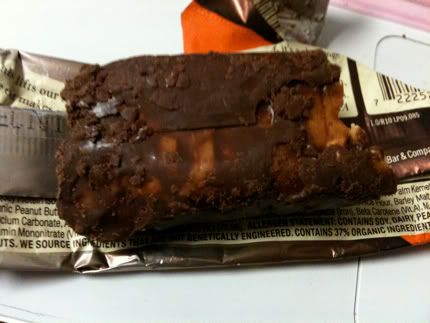 -half of a bbq chicken wrap dipped in ranch
-a few chips & salsa
-part of a southwestern salad with grilled chicken
-water
My Dad & I went to the movie grill after work to see
Inception
. I couldn't decide what to order, so my Dad and I shared the above. Too much meat, ugh, but it was soo tasty. I've been feeling really lethargic lately, so I figured it couldn't hurt, though I wish I was more creative with non-meat ways to up the protein. I think I may be low on iron as well, but I guess that's for a blood test to determine. *shudder*
BTW,
Inception
. Eh. I don't get the hype. It was OK, but my Dad and I each fell asleep approx 4 times. Kind of ironic considering it was about dreams and all....
-all natural vanilla bean ice cream with a warmed mini gf berry muffin crumbled on top with lots of cinnamon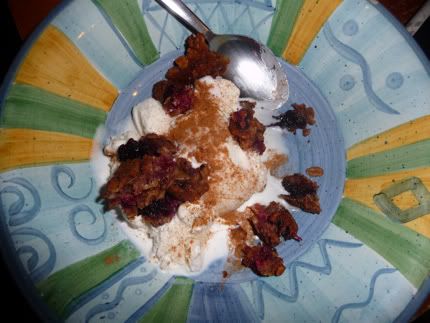 Kinda like cobbler a la mode.
Body Bugg Stats:
Calories Burned:
1,982
Steps Taken:
3,839
August 10
-mini gf berry muffin
-grilled chicken sandwich
-side of pasta
-side salad with balsamic
-chocolate cake ball (tasted more fudgy than cakey)
-apricot flavored iced tea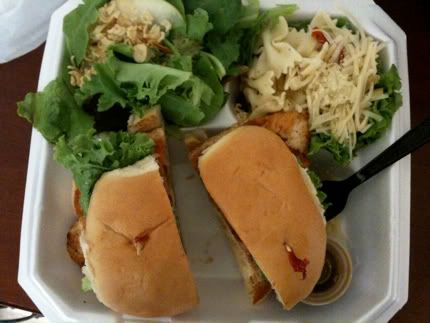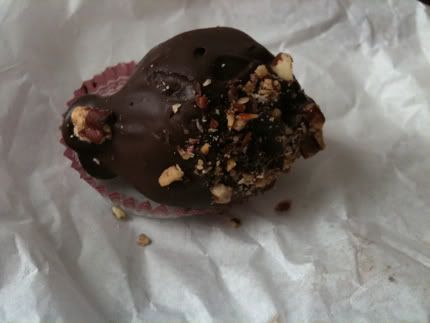 More meat. And it wasn't even that good. I used to LOVE this sandwich. Now, the bread and everything was still amazing, but I'd have preferred it without the chicken *gasp*
-hot tea
-mixed quinoa salads, a little hummus, a few almond thins, a red bean paste filled sesame ball, a few bites of massaged kale, a few sauteed mushrooms (aka random mix from whole foods bar)
-small cup of veggie soup
-55 cal watermelon popsicle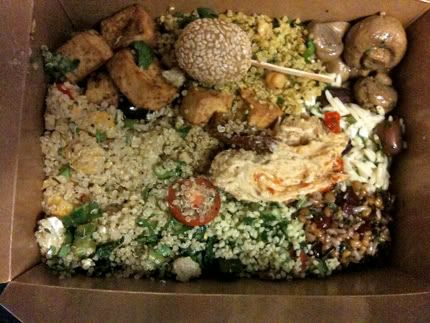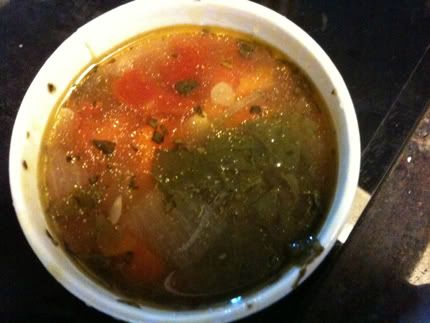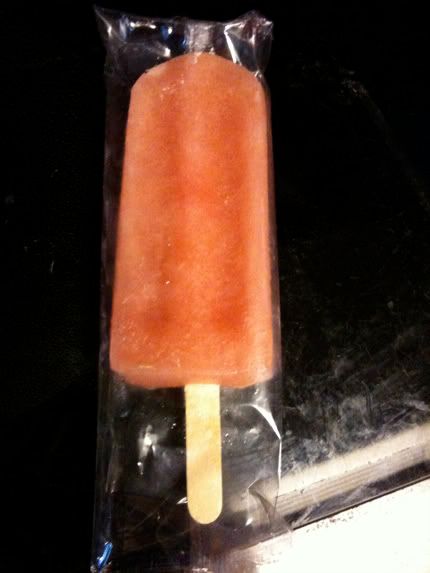 If you can't tell, I haven't really felt like cooking much lately. Too worn out.
-1/2 of a warmed chocolate vitamuffin with raspberries over 1/2 a cup of natural vanilla bean ice cream & cinnnnnamon
-water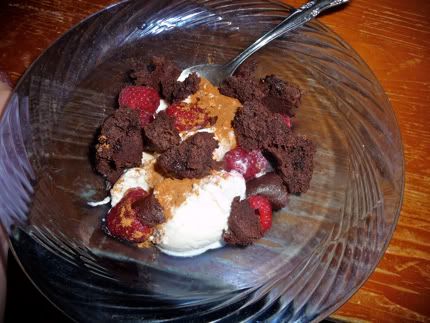 Seriously SUCH a good dessert.
Body Bugg Stats:
Calories Burned:
2,141
Steps Taken:
4,727
August 11
-1/2 of a pb & j on chia bread
Had a business meeting to rush to, but knew I needed something in my belly, so I made this as quickly as possible & ate it in the car.
-about 85% of a grande iced americano with soy
-1/2 veggie sub on wheat with cream cheese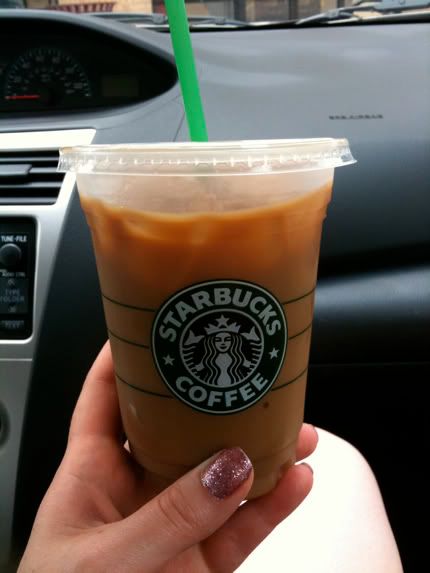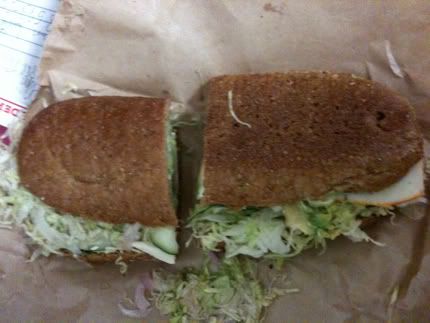 Post-meeting, but pre-massage. Needed some caffeine for an energy boost + a light meal (don't want to feel weighed down during a massage!). The coffee hurt my stomach a liiiitttle, but was still tasty. I meant to get a latte, but accidentally said soy americano. Oh well, still good.
Had a glorious (but kind of painful) hour long massage. I think my muscles were extra tight this week, grr. Probably because I picked up on my Mom's stress.
-other half of the veggie sub
-2.5 skinny margaritas
-about 5 chips with a little salsa
-spinach enchiladas with a bunch of veggies and a red ranchero sauce on top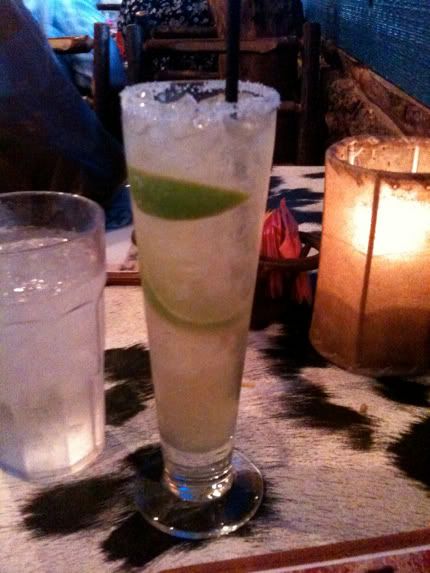 REALLY good enchiladas, but cost the same as all the other meals and didn't come with ANY side dishes. Kind of weird? Everyone else's came with them....?? (I technically ordered these off the menu, but they were listed on their online menu. Kinda weird...).
Took my aunt out for her birthday along w/ my other aunt, 2 cousins, and 1 cousin's baby. We all THOUGHT we had a great time, until my aunt (not the bday girl, the other one) decided to wreak havoc and start a huge text & phone war immediately after hugging us goodbye and telling us how much she loved us and had a great nite.
BIZARRE
. (But typical, considering the person...). OH what a nite. *eye roll*
-natural vanilla bean ice cream with a chopped peach & the last gf berry muffin crumbled up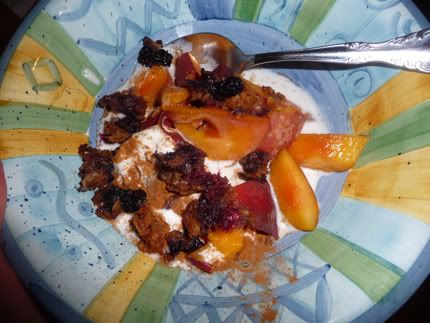 Body Bugg Stats:
Calories Burned:
2,353
Steps Taken:
4,849
August 12
-omega oats with pb & cinnamon
-citrus tazo hot tea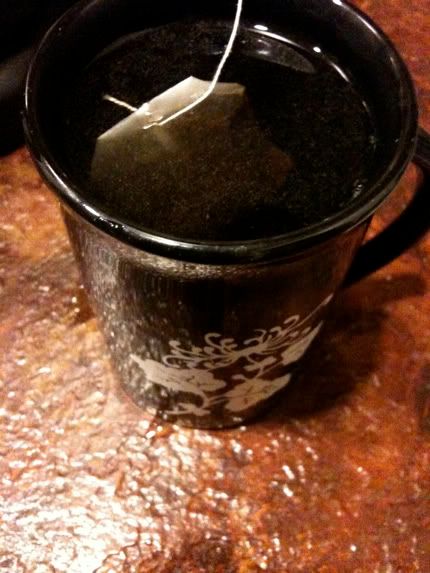 I tried to make oats in a jar for the first time, but I accidentally left a tiny bit of the pb wrap at the top of the lid on...made with metal. Yeah, I caught the jar on fire a little bit. Rock on. Needless to say, the oats and pb were directly transferred to a mug. Not exactly what I was going for, but still tasty as ever.
-skim latte (no soy milk, boo. my first dairy latte since march)
-half of a mediterranean veggie sandwich on tomato basil bread
-half of a greek salad
-strawberry scone (took all day to eat, kept picking at it)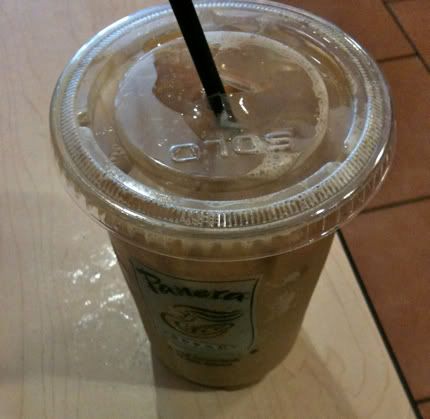 took off the onions
Can't find any pics of the scone or sandwich. Hmmm.
*shrug*
I mean..amazing. Panera is pretty hit or miss with me, but lately they've been hitting it out of the ball park. I was eyeing the scone when I walked in, but never would have ordered it...EXCEPT, when I ordered the latte the cashier said with any espresso bar purchase you get to pick out a pastry for only 99 cents. ANY pastry at all. How could I turn that down? Especially after already going in and noticing the scone. It was a sign, duh. And BOY was it worth it. SO freaking good. I figured it'd be at least 600 calories minimum, but it turned out to be 420. Not great, of course, but it was pretty huge. And did I mention delicious??
-small pear
-water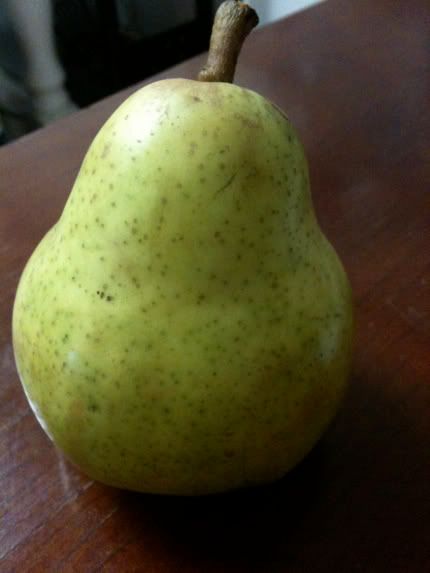 -small apple (saved from Panera lunch)
-water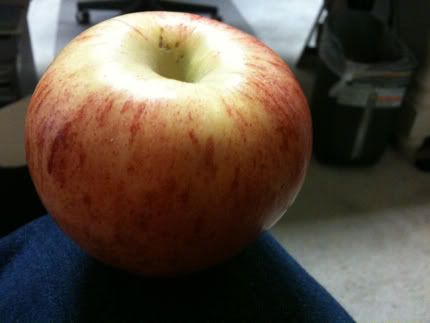 -soba noodles with chopped organic cherry tomatoes, organic spinach, portabella mushrooms, olive oil, a drizzle of truffle infused oil, splash of white wine, sprinkle of crumbled goat cheese, & fresh basil
-water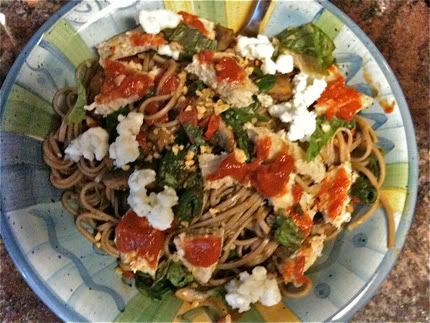 -the last of the coffee ice cream with half of a warmed vitamuffin, a few white chocolate chips, & a small handful of blueberries
Body Bugg Stats:
Calories Burned:
2,235
Steps Taken:
6,323
xo,
Amanda
P.S.
Love from Buster & Clide ;) (you'd swear Clide was one of our dogs with the amount of pics I post of him, lol).