August 22
I woke up around 9:45 am and my Dad didn't come home to go with me to "breakfast" 'til almost 2 pm. OMG I don't know how I made it :-P.
-a little less than half of a honey bran muffin
-half of a breakfast sandwich (ham *gasp* I know, fried egg, cheese, lettuce, tomato, citrus remoulade,
& grey poupon on a ciabatta bun--said no bacon at least, ha)
-a few bites of fruit
-coffee with chocolate stevia
-small grapefruit juice
-water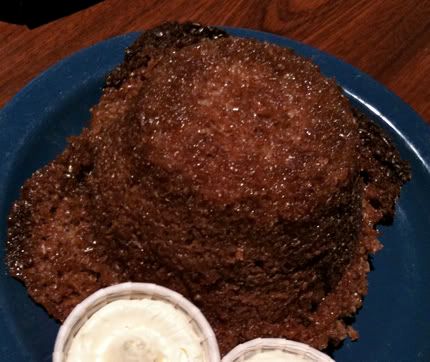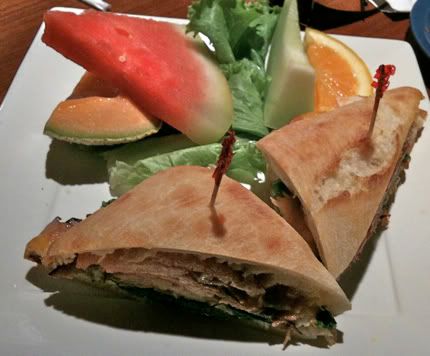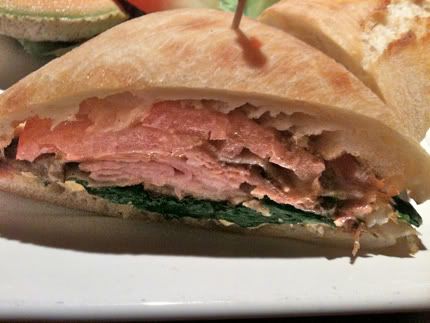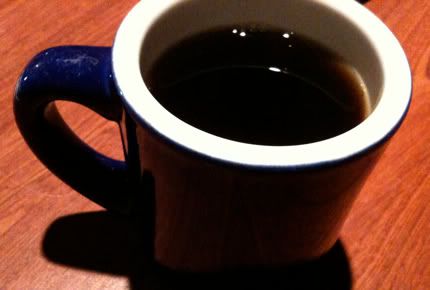 Talk about a million calories.
Kinda cool, we got it all comped (except the coffee, oddly)! They were VERY busy, but it seemed to take an unusually long time for our entrees to come out. So much so that we commented (to each other) about it 2-3 times. Then, a manager + our waitress came out and explained that the food runner had delivered our plates to the wrong table. Health code says once a plate touches the table it can no longer be taken to someone else, even if there was a mistake. So they had to remake our food blah blah & since we had to wait it was on the house. Suhweet. I mean the waiting was mildly annoying, but we had the muffin & our drinks already and it wasn't long enough that getting free food didn't WAY outweigh having to pay for it, ya know? Gotta love it!
After, we went to Sam's club and I had some samples. OMG I was so full I almost exploded. I had some trail mix, fruit, vanilla protein shake, blackened salmon, life cereal, broccoli with cheese, and a mini creme puff.
Workout:
-45 min treadmill
My Dad was too tired to go to the gym, so I treadmilled it up at home. I should probably switch from the elliptical and cross ramp to solely the treadmill. I only ran for 10 of the 45 min and I still burned MAD calories (approx. 7.5/min, as opposed to more like 4.5/min on elliptical...when I jog for longer periods I tend to burn around 8.8 cals/min). I always convince myself I hate the treadmill, but really it gives the best post-workout high, it doesn't make my toes go numb (the cross ramp doesn't usually either, but the elliptical always does), I burn the most cals, blah blah. Should be a no brainer (aside from being harder on the joints, but hey). Plus, for the most part, if you think about it, most people who are on the treadmill/are runners generally are more fit looking than those on the elliptical. I read that in a magazine or a website once and thought about it and it's kinda true. Not always obviously, but...a lot of the time.
We bought a new George Foreman grill a few weeks ago since our dog broke the old one (
fun fact:
did you know Hulk Hogan was first asked to be the face of the now George Foreman grill and he turned them down because he thought it wouldn't take off. He then went on to endorse another product that tanked).
Anyway, our grill. So, we haven't used it yet and decided to remedy that tonite. We really need to be using our real grill too, but it's hellaciously hot today. Like seriously it's been MISERABLE for the past month, but I really think today was the worst day of them all. So gross. Foreman it is. I wanted to buy the mini one beause it's pink. Who doesn't want a pink grill? But my Dad, being the practical one, convinced me we needed the large (black) one. No fun. But tasty, so I guessssss it's ok. But I still swoon for the pink one every time I pass it by lol.
Enough with the tangents...
-about 4 oz of a tuna steak flavored with greek seasoning
-organic quinoa & brown rice flavored with garlic
-a serving of healthy choice clam chowder
-water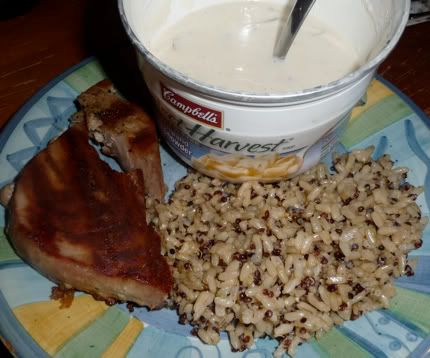 I'm more of a rare tuna girl, but my Dad well doned the sh!t out of these lol. Still pretty good somehow. He saved me half his soup, I wouldn't have normally chosen it. Eh. It was alright. The rice was alright too.
A little while later for dessert...
-caramel on the bottom oikos organic greek yogurt topped with organic kamut puffs
-water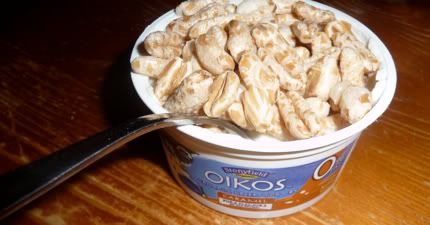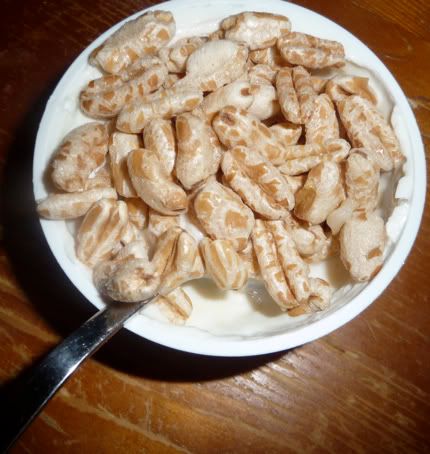 Not sure if I'd buy the yogurt again when I run out of my 4-pack, not as thick as I like, but it was still good. I'm curious how the chocolate one tastes, though I realize the consistency would still be the same.
Body Bugg Stats:


Calories Burned:
2,359

Steps Taken:
10,532
Approximate Calories Consumed:
1,450 give or take
Not bad at all considering all the crap I ate, pretty low for me usually, but I guess I did only have 2 meals, samples, + a healthy dessert. And most of the cals were from breakfast lol. :-x.
xo,
Amanda