August 3
-half of a veggie sandwich on multi-grain bread
-most of a small strawberry banana smoothie
-fruit salad
-about 3/4 of a super small cup of hazelnut black coffee
-water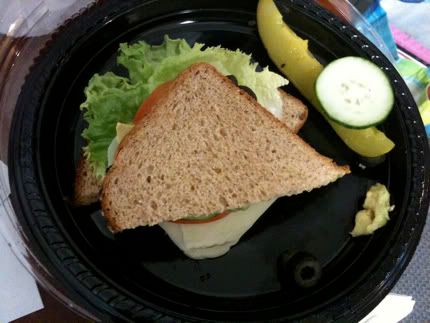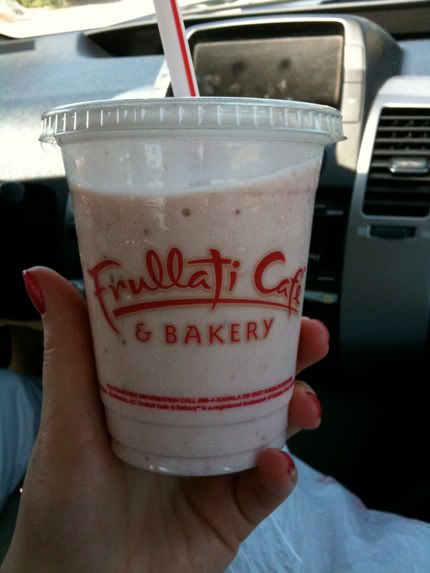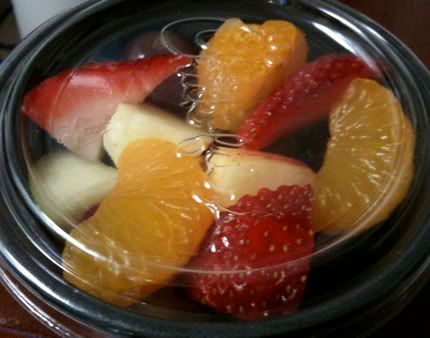 Frullati's smoothies taste weird/off to me now. I remember I used to LOVE them. I wonder if they changed the mix. Hmm.
-a few chick-fil-a waffle fries
-water
-a few sour cream & scallion brown rice chips (a serving is about 30 chips, I had maybe 5-10?)
-crab legs
-roasted potatoes with olive oil, greek seasoning, and a tiny pinch of pink salt
-salad (organic spinach, organic baby carrots, organic strawberries, blueberries, a tiny drizzle of ranch. I didn't know I was out of most veggies & was gonna put the fruit on top or I would have used a diff dressing. Oh well)
-a few sips of a patron margarita on the rocks (my 21 year old self would have punched myself in the face for pouring 95% of a drink down the drain, especially patron, but in hindsight I just wasn't feeling it. I just wanted to use the whole foods all natural marg mix I bought out of curiosity, but not because I really wanted one...)
-water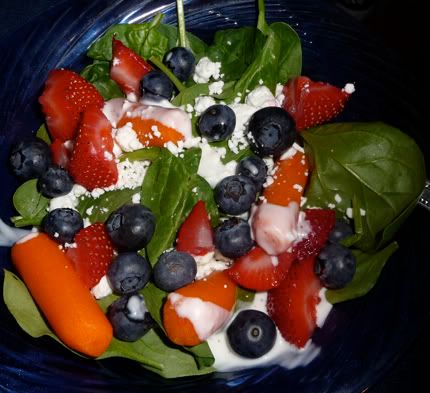 -half of a raw lemon tart
-sliced organic strawberries
-water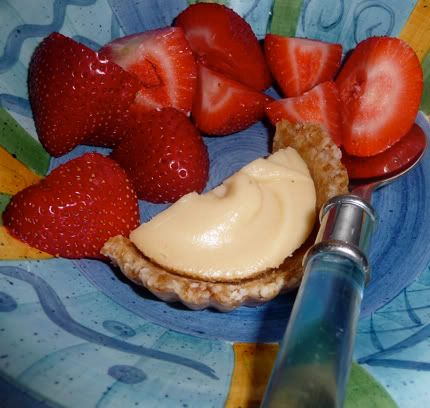 I can't believe one serving is supposed to be 1/4 of the tart. That's one bite. Literally. A small one, too. The entire tart it TEENY. It's made with all good-for-you ingredients, but man can they pack a lot of calories in.
Body Bugg Stats:


Calories Burned: 2,157
Steps Taken: 5,025
August 4
Workout
-32 min cross ramp
-lil bit of raisin bran with almond milk
-water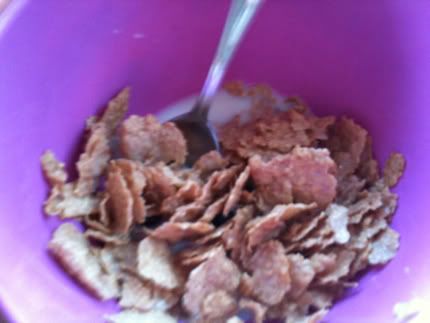 -about 1/2 to 3/4 of a small order of elote
-large shaved ice (just ice)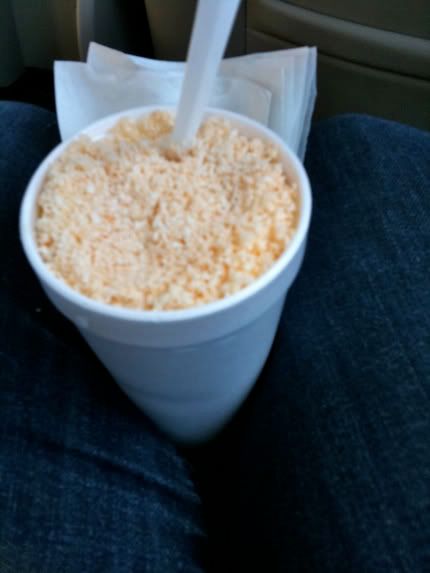 -Panera chicken noodle soup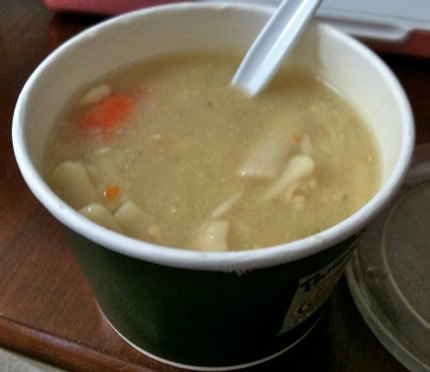 -side of cherries
-1/4 of the raw lemon tart
-2 sesame rice flour balls w/ red bean paste filling
-a few bites of the salad meant for lunch that I couldn't bring myself to eat (organic spinach, organic strawberries, blueberries, pineapple chunks, goat cheese crumbles, honey goat cheese, drizzle of organic safflower oil, drizzle of organic balsamic vinaigrette, drizzle of local honey)
-water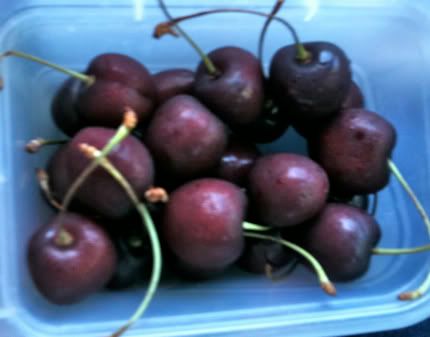 Mostly just picking at stuff. Not sure why I didn't just eat the salad, it was super good. I'm being extra wasteful lately. Although, mostly because my stomach is being super finicky. All it wants is soup, and every time I think I'm hungry and am about to go get/make food it starts bothering me. Rude.
-handful of bbq pop chips
-small gelato (banana cashew, strawberry chocolate chip, & rocky road)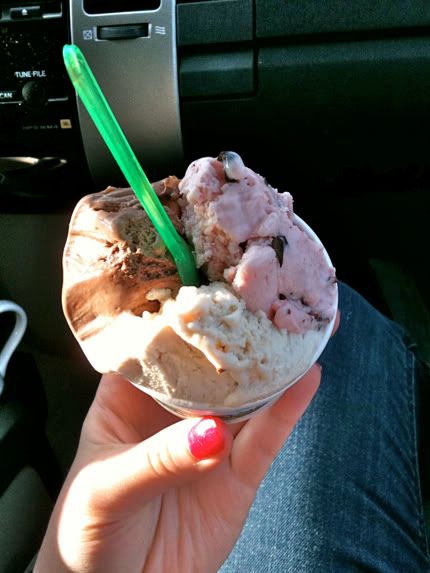 Dessert before dinner, holla.
They had way too many good choices. I think I chose wrong. The strawberry wasn't great, the banana was pretty good but I've had better flavors, but the rocky road was great. I think I was just in a chocolatey mood. Can't believe I gave up bacio (my love. aka choc hazelnut) for those. Silly Amanda.
-1 or 2 bites of a salmon kabob, a small amount of hummus w/ pita, a few bites of greek salad, a bite or two of white beans, some rice
-water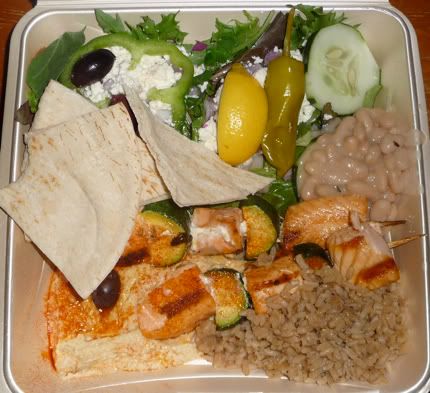 Again, thought I was hungry, but once the food came..no thanks. That rice technically came w/ the rest of my family's meal, but I stole some. SO. GOOD.
It kind of looks like I ate a lot, but I just remember picking at stuff all day, unable to eat a real meal *shrug*
no body bugg stats because I suck at life (or, um, recording stats. same diff).
August 5
Workout
-5 min treadmill warm up
-about 40 min weights (arms & legs)
-10 min treadmill intervals
-brownie pancakes (about 2ish, maybe 2.5) with about 1 tbsp (maaaybe 1 heaping teaspoon) white choc pb & a drizzle of vermont maple syrup + a few organic mini dark choc chips (pancakes made w/ gluten free mix & chocolate amazing meal + almond milk, apple sauce, & 1 egg)
-1 sip of watermelon juice
-water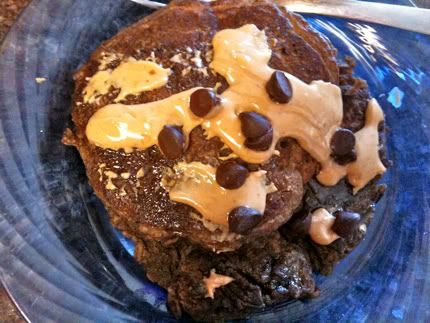 Not that I've ever had them, but I've been craving (the idea of) brownie pancakes since last Saturday. These turned out OK/almost good, not the best, but satisfied the yearning.
-vanilla rooibos hot tea
My co-worker Myra thought I was nuts for drinking hot tea in the 110 heat, but it was the only thing (that and soup...) that made me feel better!
-chips & salsa
-a random super spicy nacho they brought over for us to try
-a spinach tamale
-a few bites of tilapia in a white wine and caper sauce (but still mexican seasonings) with 3 shrimp
-spanish rice
-sauteed veggies
-a few bites of guac
-mojito
-water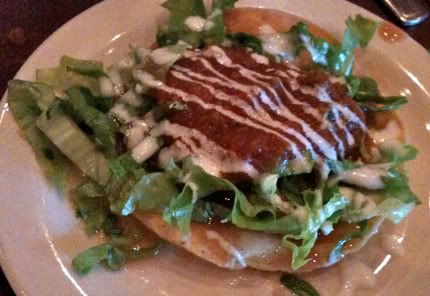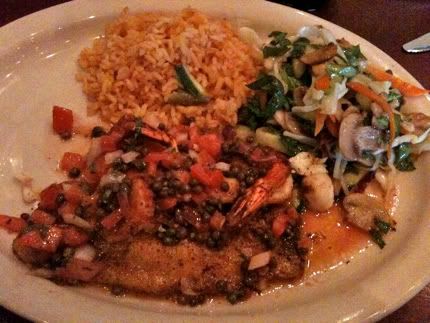 -the leftovers from above (the fish & veggies with guac)
-peach sorbet with frozen cherries
What I REALLY wanted was a grapefruit popsicle from Whole Foods, but this did in a pinch.
Body Bugg Stats:
Calories Burned:
2,169
Steps Taken:
6,520
August 6
I woke up to work out, but my Dad said he woke up too late & wasn't feeling it. Since we're usually workout buddies, I just went back to sleep for a little bit. My bad.
-leftover brownie pancakes (about 1.5) with same toppings as yesterday
-the last leftover bite or two of roasted potato from the other day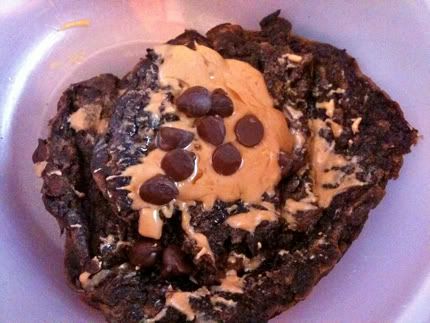 I used to hate potatoes and now they're like my crack. What gives?
Mid-day my Dad took me to get some soup, so I could have something light before dinner. The sky was AMAZING, we both thought it looked like the ceilings in Caesar's Palace & Paris in Las Vegas. The clouds weren't even moving. I only had my cell on me, so it's not the best representation, but you can kiind of tell: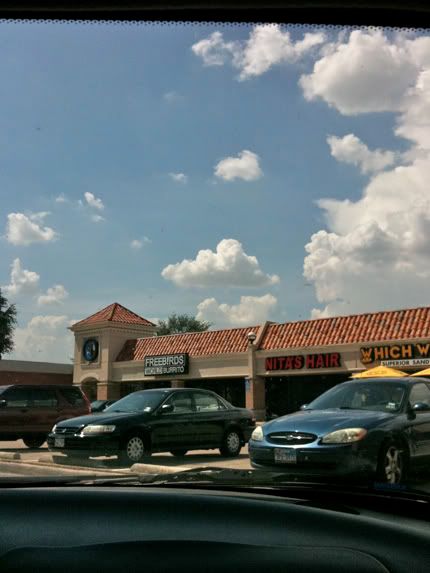 OK, not really, it was much cooler in person. I tried.
-small cup of chicken noodle soup w/ crackers
-half a bag of salt & vinegar chips
-1 bite of a ham & cream cheese sub on wheat
-lots of water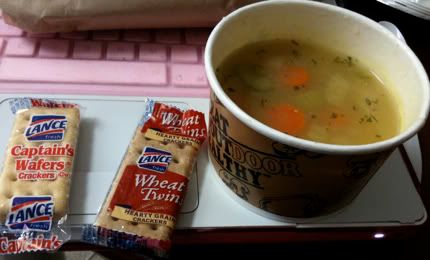 Usually I never use the crackers in soup, but they just sounded good this time.
-2 or 3 pieces of hard bread (idk...toast? cracker?) with smoked salmon & tartar sauce
-2 or 3 heaping tablespoons of spinach dip w/ sour cream & a few chips
-half a small piece of red snapper with crab
-half an order of creamed corn
-3 glasses of sparkling wine
-a little over 1/3 of a hoegaarden beer, maybe closer to 1/2
-water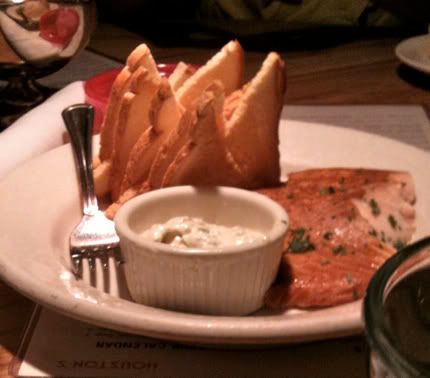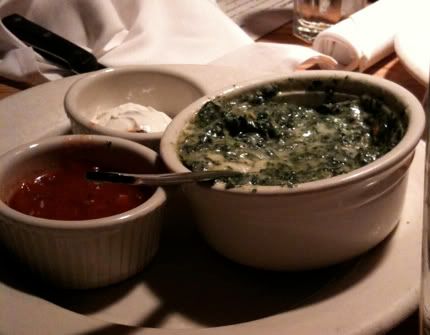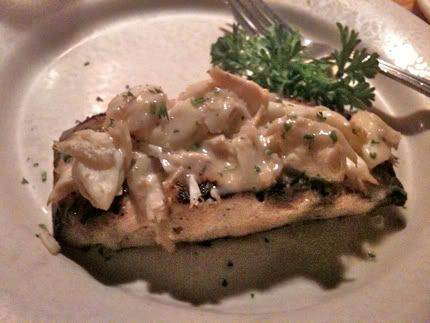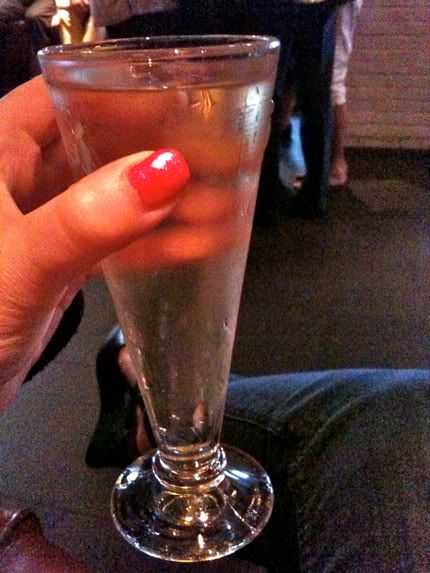 (pre dinner glass numero uno...hey it was a long wait!)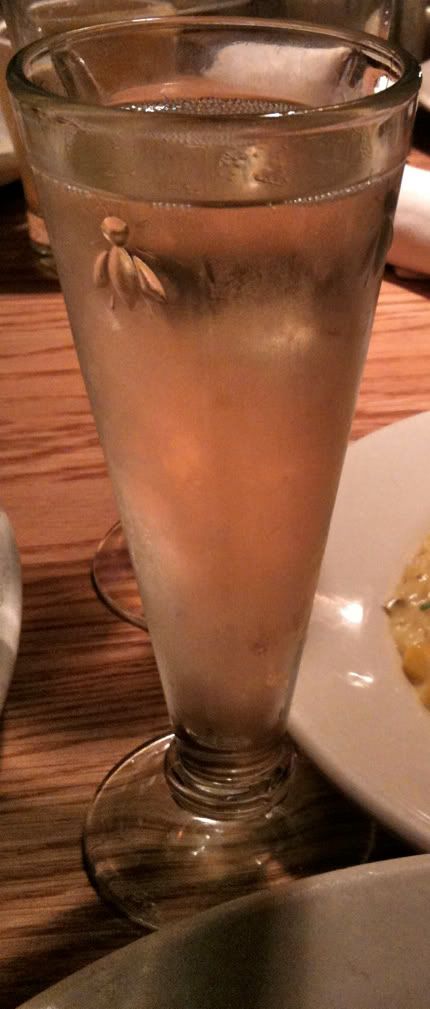 Mad at myself. I wanted the crab cake salad, but I was told the snapper was amazing + was told the creamed corn was the best. I KNEW I should have gone for the salad & just added a side of corn, but nooo. I mean the fish was OK, but not worth the $ and was a little overcooked and just...whyyyy. The crab salad sounded AMAZING (crab cake, greens, grapefruit, and avocado, mmmmm). Oh well :-P. I was also told the smoked salmon was the BEST EVER. I mean it was good, I'm happy we tried it, but I wouldn't HAVE to get it every time (or even ever again, really). It was more like fully cooked smoked salmon, I was expecting more like a "raw" lox type. But ah well, at least it was still tasty enough.
Our bill was
outrageous
, but we had a really fun time. My cousin, her baby, my brother, my Dad, and our co-worker friend all went out to Houston's for dinner & drinkies. My Dad said he couldn't believe we were ordering wine like it was water. Oops. My cousin and co-worker really liked each other (they never met before then), so we all want to go out sometime now. Yay.
-maybe 4 or 5 tj's choccie covered nuts
Body Bugg Stats:
Calories Burned:
2,118
Steps Taken:
4,570
The end.
xo,
Amanda