July 9
-2 egg whites in an ezekiel tortilla with pesto, hummus, & thyme/basil/red pepper goat cheese
-5 sliced strawberries
-Starbucks iced coffee via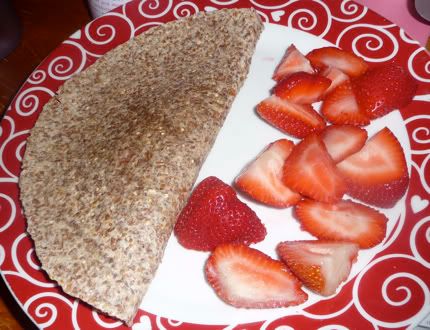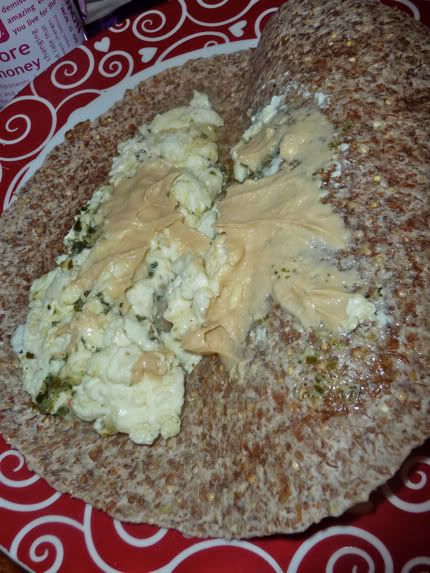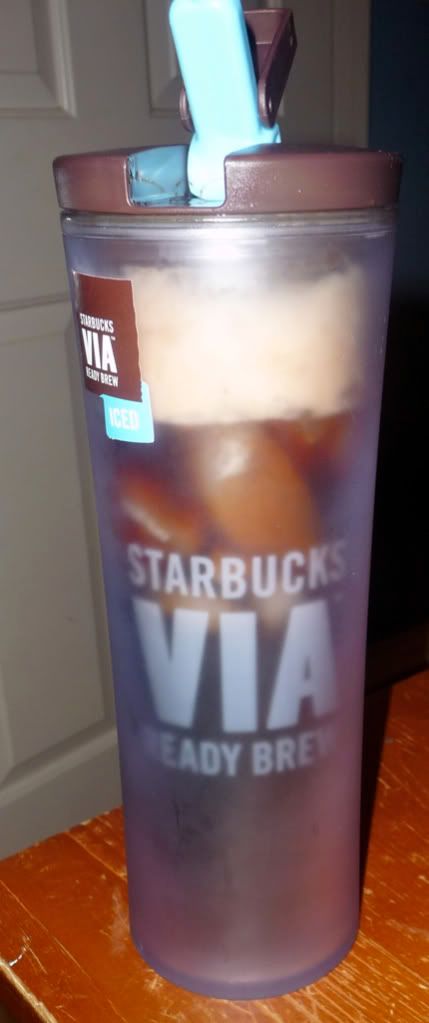 Really good and kept me full for a good amount of time. Not sure why this has more staying power than my other egg & fruit breakfast, but...
The hummus was a last second addition. Maybe that helped push it over the satiety/fullness mark?
-cherries
-side salad (organic mixed greens, organic baby carrots, organic grape tomatoes, garlic gold nuggets, hummustard dressing made with spin/artichoke hummus/chinese mustard/splash of water)
-organic lentils with greek seasoning
-water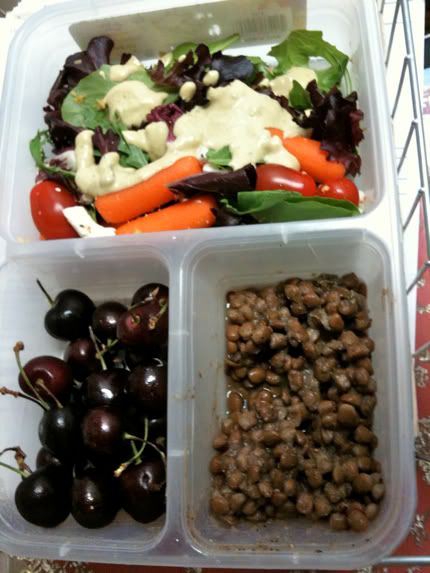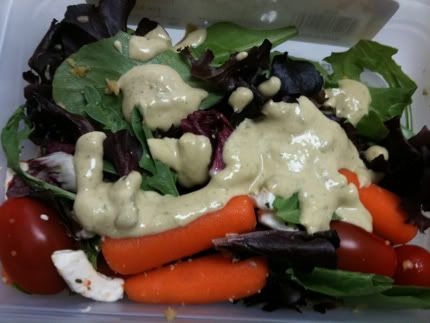 I realized I forgot to add salad dressing on my way out the door (I typically pack my lunch the nite before, but add the dressing the next morning, so it doesn't get all soggy and gross). Never fear, I used
Janetha's
method. Sorta. We didn't have mustard-mustard, but I found one lone chinese mustard packet in the work fridge, in the midst of 1,000 duck sauces (um, why? no one uses them) and a few soy sauces. Figured it couldn't hurt to try, so I mixed that with hummus & a drizzle of water. I thought it would be not so good, but it worked! It wasn't my fave, but as a replacement I liked it just fine. Crisis averted ;). I'm a mustard (aka mustard-mustard, LOL) whore, so I bet I could really find deliciousness with the "correct" recipe :-P. The idea of watering down hummus kinda seemed gross, but as long as it tastes good...
-nut delight Kind bar (so gross. the only Kind bar I've ever hated. Usually I'm obsessed, but this was NOT delightful)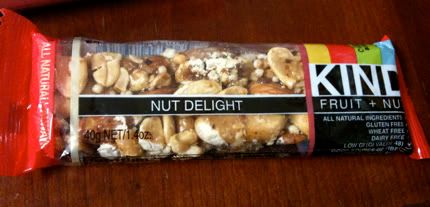 -chips & salsa
-pomegranate mojito
-black bean & jack cheese nachos with sour cream & guac
-ahi tuna salad with avocado
-1 corn tortilla
-blueberry mojito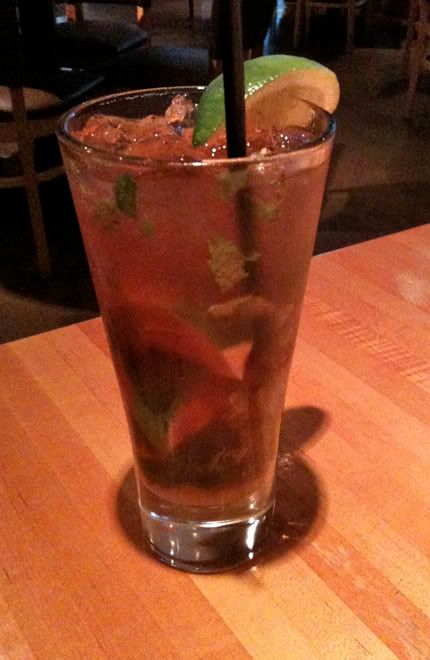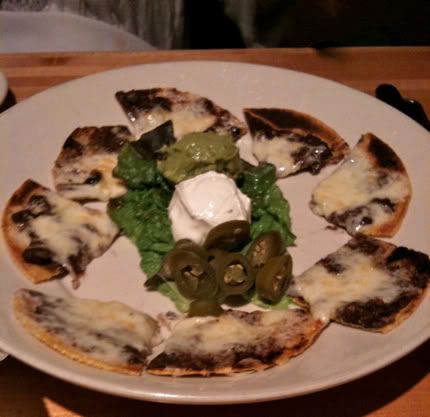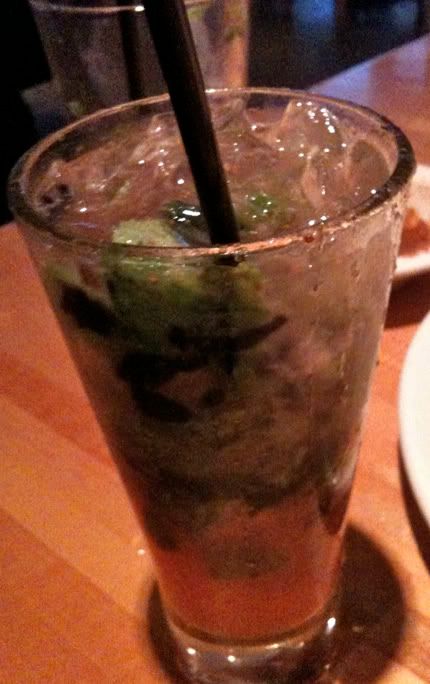 I didn't order the nachos, but I sure did eat half. Ack. Also, I'm kind of over mojitos. They were OK, but not my fave like they used to be. Too sweet, maybe? I could still probably get down with a club soda, rum, mint, fresh fruit combo. The price was nice, though. Both of my drinks still cost $1 less than one of my Mom's margaritas, lol. I used to be OBSESSED with their "suicide margarita" (they layered a little bit of each marg: lime, strawberry, prickly pear, and mango). SO good. I didn't see it on the menu this time, oddly. Good thing my heart wasn't set on it like it usually is.
-tall decaf soy latte
-dutch caramel wafers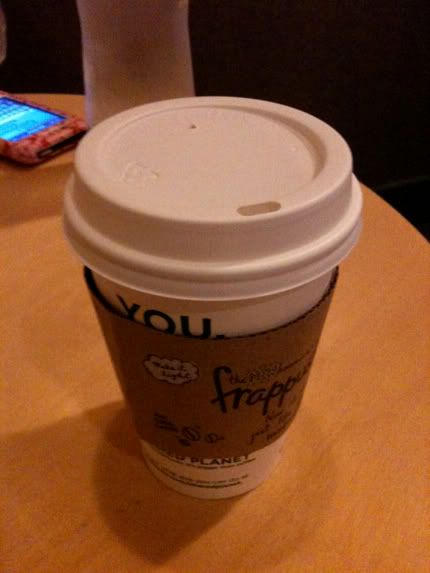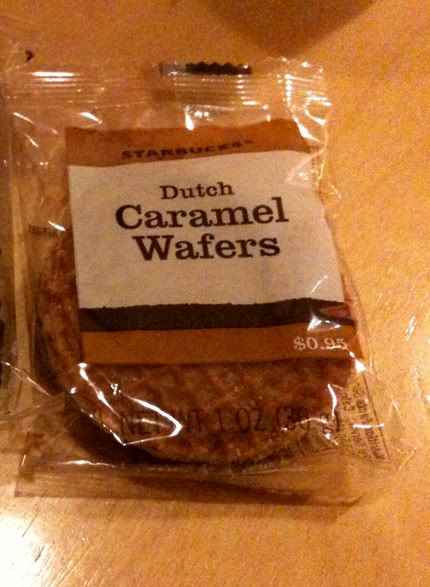 Went to see Please Give at the Angelika Dallas theatre. It was really good. I convinced my Mom we should go, because I just
knew
it was her kind of movie. I was right.
I snuck in (part of) my latte + dessert. Shh. When we were buying the movie tickets I was holding the latte. The cashier told me I'd have to finish it before going past the ticket tear-er guy. Thanks for the warning, bud (not that he meant it as such, heh). I then put my latte in my Starbucks bag (I bought my Mom a to-go cup, phew for that bag haha) and I was all good. ;). Hey, I needed a little coffee to go with my dessert, gosh!
-handful of peanut butter bumpers cereal
-1 bite of dark chocolate graham cracker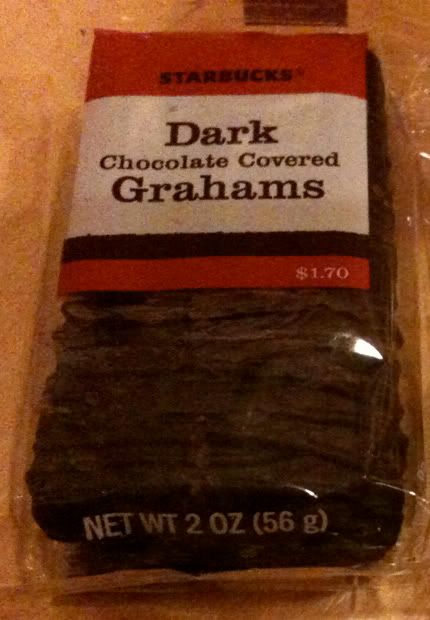 Had to check it out, c'mon. And lemme say, not bad, not bad at all.
Body Bugg Stats:
Calories Burned: 2,129
Steps Taken: 5,346
xo,
Amanda