July 14
-2 wildberry buckwheat waffles with a laughing cow light cheese wedge & a liittle superfruit jam
-small glass of pulpy OJ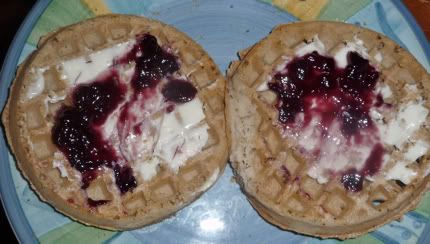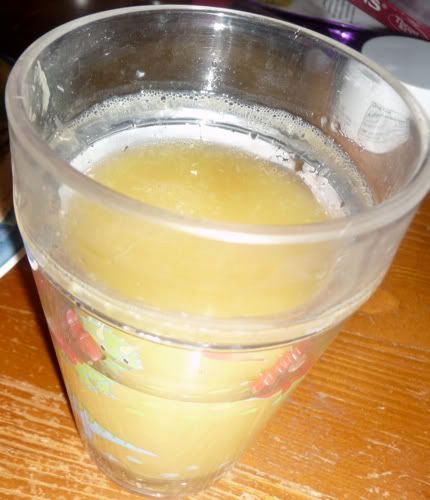 -nectarine
-2 cups of coffee
-half of a chocolate iced donut
-half of a jelly donut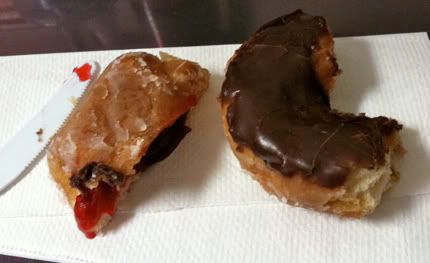 Ughhh for the group that meets in our office on Wednesday mornings who offered us their leftover donuts. Like I've said before, I don't even like donuts, but I just thought donuts and coffee sounded good together and I was still a little hungry. Whyyyy? I'm pretty sure the fact that I felt kind of depressed all day had something to do with eating that crap. I felt fine before I ate eating them & fine a few hours after, but right after eating I just felt BLAH for a couple hours. So strange.
Like 4+ hours later.... (6+ after the waffles)
-about 1/3 of an apricot almond Kind bar
Needed something in my belly before my (chair) massage, so my stomach didn't growl during it LOL.
The donuts made me feel bleh-ish, plus I THOUGHT I was eating dinner close to 5 pm, so I was trying to hold off 'til then. Instead, dinner was pushed to 7:15ish, sooo I was rather hungry.
I still didn't think I should eat my full lunch, so I just picked at the fruit & veggies:
-the whole side of raw broccoli
-water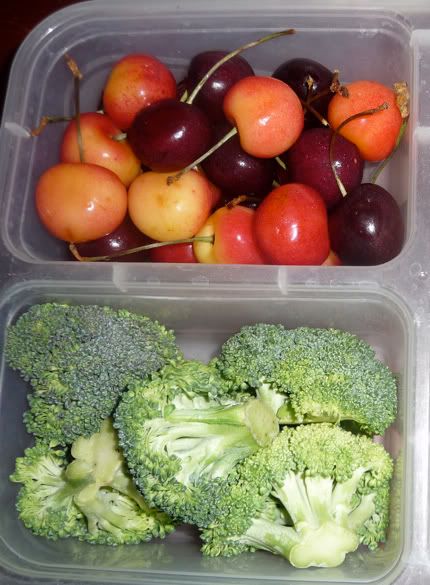 Left a weird taste in my mouth without having any dippers. Hmm.
-a few cherries
-water
see above for pic, duh. but I only ate about half that amount, maybe 1/3.
-salad
-toast thing
-glass of champagne
-1 dolma
-red snapper with lump crab meat
-baked potato with sour cream and chives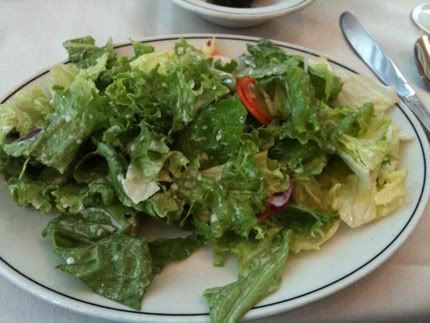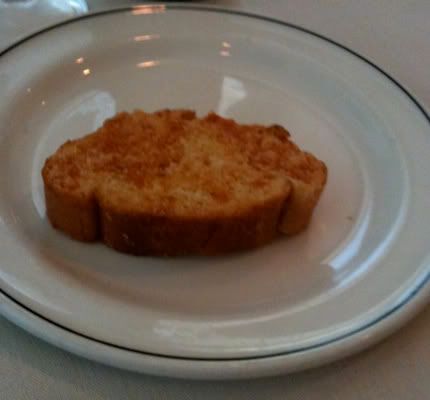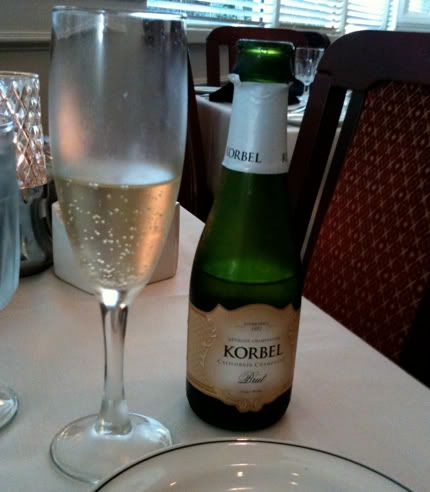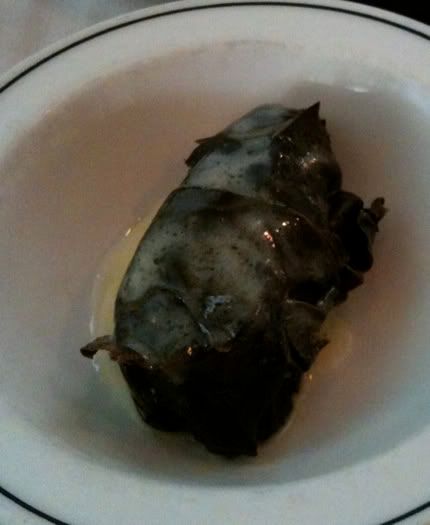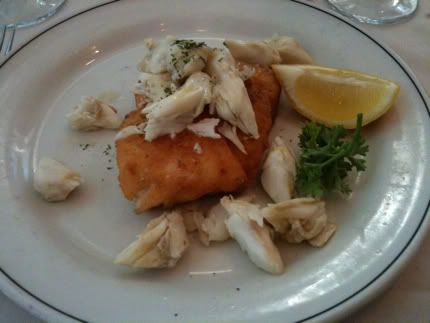 Tried a restaurant that's been around FOREVER that is supposed to be nice, but it was pretty mediocre. Especially for how pricey it was.
The menu said:
Err yeah. More like a breaded (hopefully not fried, I couldn't really tell) piece of white fish you could find anywhere with crab with shells still in it. Come on!
Was so pumped to see Big Brother, but pissed they didn't reveal the saboteur. I swear they said we'd find out Wednesday! Aholes.
I'm pretty sure I had written more, but somehow deleted the rest of the post. Grr.
I do know I did a
"workout"
-about 1 hr or so of jogging in place. Burned
a bunch
of cals. Like somewhere between 400-500+. Seriously. So addicted. I find myself wanting to just jog in place all the time now, haha. Even at work I did it a few times when I was alone,but kept getting paranoid that someone would walk in and be like WTF? LOL. Hey, it's fun. Ish.
Ugh, once again pissed at myself for not having the body bugg stats, I know I burned a lot this time. Maybe I will check the software to see what it was and report back...
EDIT:

Body Bugg Stats

Calories Burned: 2,563
Steps Taken: 11,238

xo,
Amanda