July 7


Workout:
-5 min treadmill (3 min warm up, 2 min cool down)
-about half an hour or so of weights/machines (arms & legs)
Starbucks is pretty much right next door to my gym. You think I'd take advantage of that every morning, but unfortch, usually I'm already in a hurry. Today included, but I still refused to leave without my crack. Er. Espresso.
-grande iced americano with a splash of soy
-1 egg over medium on a slice of yf/gf brown rice toast with a little low-fat flax seed vegenaise & garlic gold nuggets & a slice of cheese
-handful of cherries + the last handful of blueberries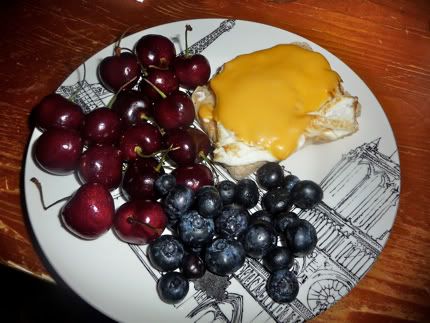 So it's pretty clear this breakfast, for whatever reason (it has all the right components! and I even added coffee this time!), is not holding me over long. It's super delicious, but for the second time, I got hungry within 2-3 hours after eating it. I held off making lunch until the 4 hour mark, so it's not terrible, but it sucks being hungry and feeling like you shouldn't eat because you kinda just did, ya know?
-half of a Kashi spinach & mushroom pizza (aka 1.5 servings of my fave frozen pizza ever) + a dollop of pesto I put on each slice
-organic baby carrots & hummus
-side salad (organic mixed greens, organic grape tomatoes, organic olive oil, organic balsamic)
-2 raw macaroons (one cocoa, one blondie)
-water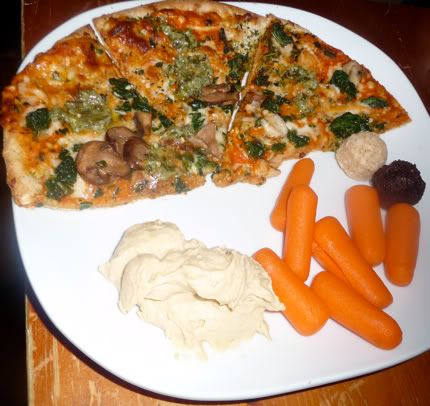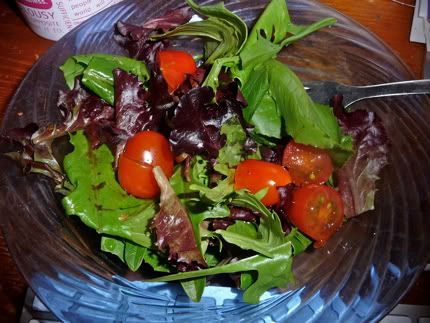 I can eat that entire pizza. Easily. Although there are worse things (it's only 750 cals total and has good nutritionals), I decided to load myself up with healthy sides.
Perfection.
-side of fruit salad
-medium iced tea
I really wanted another Starbucks, but I later realized, today of all days, they forgot to give me my after 2 $2 drink receipt this morning. Boo. Based on principal I didn't want to pay full price LOL. Oh well.
-Chobani blueberry greek yogurt
-plain shaved ice
Love the texture, hate the artificially flavored corn syrup nonsense. It works.
Tried out a (new-to-us) wine bar, 55 Degrees, right by our house for a happy hour of sorts (it was a little too late for normal happy hour, but who cares!). Very cute and cozy and a local artist my mom loves has his artwork displayed (for sale) all over the walls. We will definitely be back. I did think they skimped a little on the fruit additions, but it was still all delish.
-glass of sparkling wine
-shared a fruit/cheese/olive/cracker tray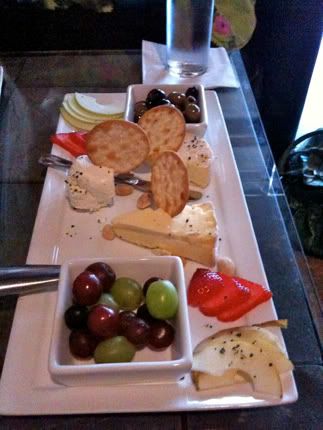 -dover sole w/ a kalamata olive spread, goat cheese crumbles, and organic grape tomatoes
-butternut squash risotto made with almond milk
-water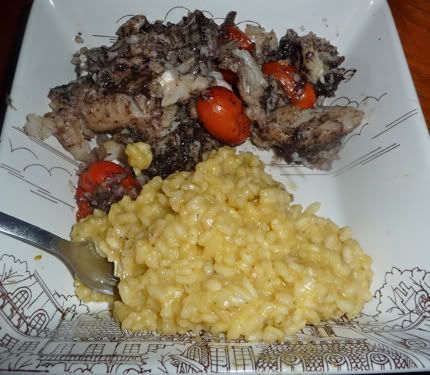 -2 tim tam cookies (1 caramel, 1 dark chocolate)
Workout 2:
Okay, you guys know I never count my jogging in place-ness as a "real" workout, but yesterday I used the body bugg trip mode and calculated that I burned like 250 or so calories in a good 40 or so minutes. I'd say that counts. Another sticker for the calender! lol
Body Bugg Stats:
Calories Burned: 2,632
Steps Taken: 11,581
xo,
Amanda