May 27


There's one thing about me you should probably know: I hate sneakers except for working out. I feel like not only were they totally NOT comfortable (I'm serious!), but they
completely
ruined my outfit :-P. Ugg! Bad choice.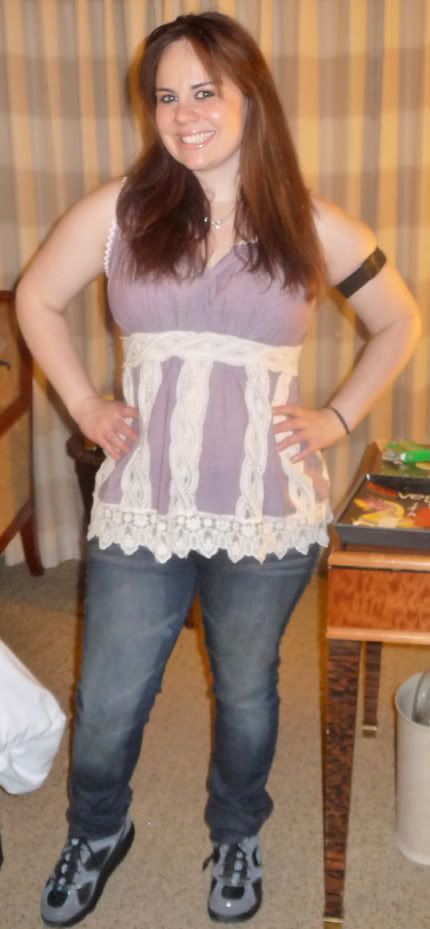 I kind of thought this shirt was slightly big too (also a medium), but it's really cute. How did I ever live without a closet packed full of Anthropologie? I do not know.
Since we were forgoing a breakfast out and lunch wasn't scheduled 'til 12:45, I reluctantly used the hair dryer trick and heated up my leftover crepe. It was passable. And I was glad I did it (especially when lunch didn't end up happening until closer to 2!)
As soon as we left the hotel, we bought a daily bus pass *grumble grumble* (I
swore
I wouldn't take the bus, but the day before my Dad begged me to just TRY it when we just couldn't walk anymore. I forgot when, so I didn't mention it. But it was fine).
Nobody told us until AFTER the fact, that to take one of the two buses you had to buy your pass from a nearby vending machine before boarding (the other bus you could use the vending machine or pay on board). Of course THAT bus (vending machine only) was the one that came asap. As soon as it pulled away we had our passes. The
other
bus took probably 40 minutes to come. DAMMIT. Needless to say, we had to change yet ANOTHER reservation (and were STILL late for THAT). *grumble grumble again* Not to mention, my Dad asked the bus driver if we had missed our stop (we hadn't) and he was kind of rude about it. My Dad didn't think so, but trust me...he was. Ahole. (A lot of aholes that day, my Mom in particular had to deal with a real psycho at work, but I digress).
So. Destination: Stratosphere. How do I say this without sounding rude? That part of the strip. Um. Not really my...cup of tea. My Dad and I both immediately regretted our decision to check it out, however once we got to the top we decided it was well worth it. (But, ahem, that didn't stop us from getting the hell out of dodge right after). I'm probably exaggerating its "badness," but it's just not pretty, pretty Vegas! :)
Except at the top that is (too bad you can only see a tiny portion of the strip, though, but whatevs, it was day time, no lights!camera!action! just...camera).
helicopter!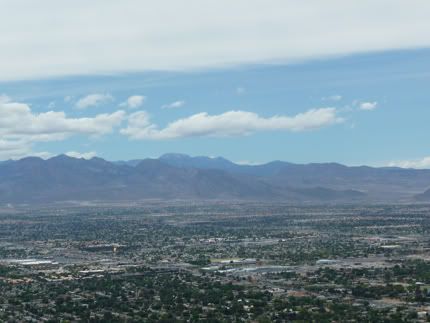 hey, there's the pretty pretty I was looking
for!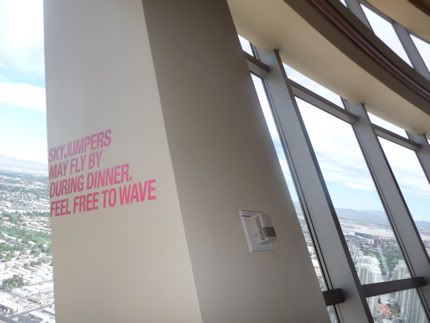 and we did see one or two! Crazy, crazy people. Including 2 older people (a man who was probably 70 something and his wife who was 50 or 60 something). Dare devils! As I told a friend, I'd rather die. TOO scary! *shudder*
To start, they brought out bread and buttah. Flavored butter, more specifically. Well, one was plain and boring (yuck, me no like butter), but the other two were pretty good. Normally if I'm going to enjoy butter it's going to be sweet, like strawberry or honey. But this time I thought the fruit flavored one (orange marmalade, I wanted to say. My Dad thought strawberry? But I'm pretty sure I was right lol) was only OK. The green one (chive? green onion?) was DELISH. Vedy vedy interesting.

Normally I don't even eat the bread at restaurants, but Vegas doesn't skimp on carbs, if you haven't noticed. They use the good stuff. When in Rome...


For lunch I had the black cod salad. Yuck. The fish was quite good and (finally!) perfectly moist. But it was also...TINY. You can't even see it under the homemade chips in the pics below. (I also thought the chips were going to be more like roasted potatoes, but oh well. I'm not really a potato chip person either, but what can ya do?). I was in DESPERATE need of veggies, but these failed. First off, they put some kind of pickle (/marinated cucumber....same thing) all over the salad. WEIRD. And none of the veggies went together. It was just blah. I was quite hung-hung (for those not in the real-life know, that's how I always say hungry lol), so I gobbled up as much as I could stomach, but even when I finished I still wanted fooood (in mah belly). Ridic.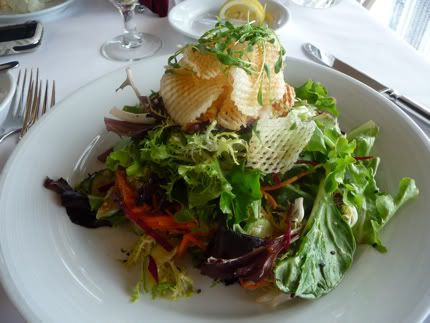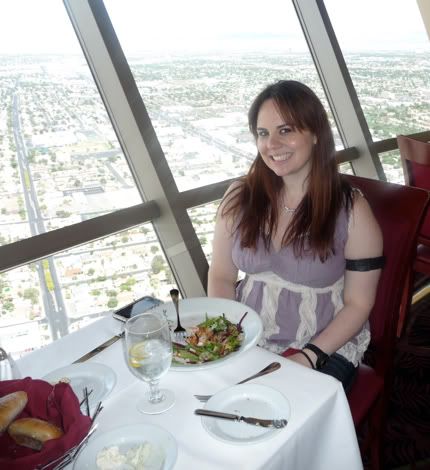 nearing the end of what I could finish
My Dad had been wanting a hamburger for a day or two, so a hamburger he finally had. Unfortch, he said it wasn't great. Bummer, dude. At least our lunch was (relatively) inexpensive and had good-to-great views. Still worth it, but may have been better just to visit the upstairs bar instead...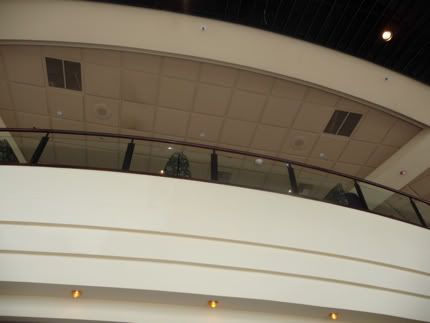 Coulda shoulda woulda. No complaints. Well, no regrets, I should say. I've complained plenty, LOL.
Here are a couple shots of my Dad, I thought they came out really well: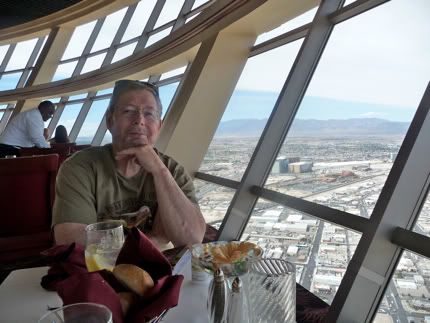 I bet no one could guess my Dad's real age. I'm glad both my parents look so much younger than they are. I hope it keeps them younger in all aspects too. So far so good! *fingers crossed* :)
My Dad thought I was a real weirdo for taking a pic of this, but I thought it was kinda purdy, sue me!
Bye bye very-end-of-the-strip-that-can-barely-still-be-considered-the-strip :-P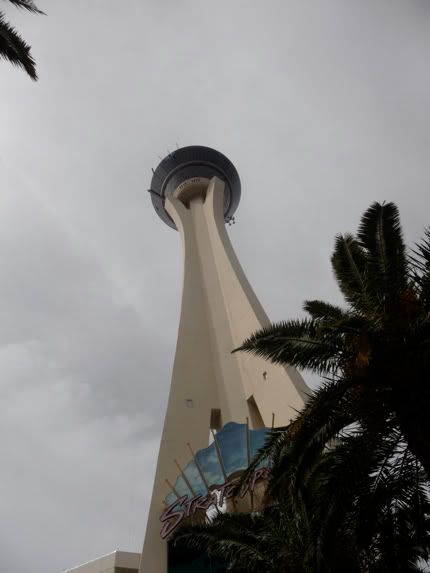 As if it could read our minds, the bus was ready and waiting. Phew! When we spotted it we were pretty far away and nervous we'd be waiting ANOTHER 40+ minutes for another to drive by, but for some odd reason it just sat there for a few minutes and we made it just in time. Oh yeah, now that's what I like to see!
Of course, the bus being there came at a cost. Kind of. Not only was it really crowded (and my dumb ass HAD to see what the 2nd floor of the bus looked like. Um, nothing special. Exactly like the bottom...), but our driver also thought she was a comedian. Newsflash: she wasn't. I guess it did make for a somewhat more entertaining ride than usual, but it was also one huge eye-rolling experience.
A random asian tourist (who didn't speak much English otherwise, I don't think) kept screaming out that everyone was greedy because they wouldn't move back far enough in the bus. I'm not sure how that constitutes them being greedy, but OK. That was...pleasant. And there was another altercation, but nothing too bad.
Another tourist was rocking the fanny pack. This was my best discrete attempt at evidence: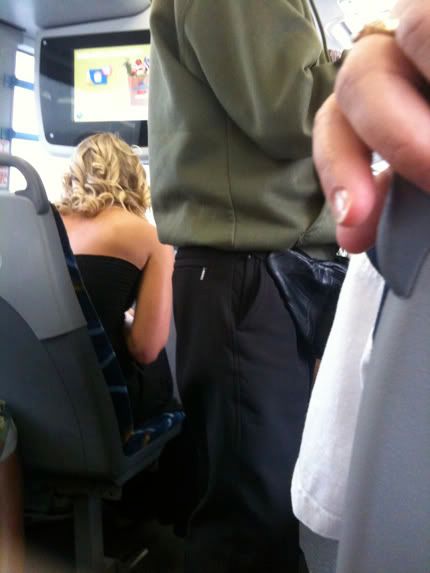 Ohhh yeah. You rock that leather FP. LOL.
Oh, buses.
To help fill up my still-grumbling belly, we headed over to Caesar's to FINALLY get my Serendipity on. YOU GUYS, this has been nearly 10 years in the making (OK, OK since the movie came out.
Shut up
, I'm not the only one). I've tried to go to the NYC location a few times with no luck. One time I didn't even make it through the line to get on the waiting list. It's unreal. But OMG. This time? I made it! I really, really made it.
Honestly, I wasn't even expecting to like the frozen hot chocolate. Way back when I thought it sounded fantastic, but this day. Eh. Whole milk? Barf. I can't stand to even look at the stuff. Still, I had to try it. (and just pretend I didn't know what was inside).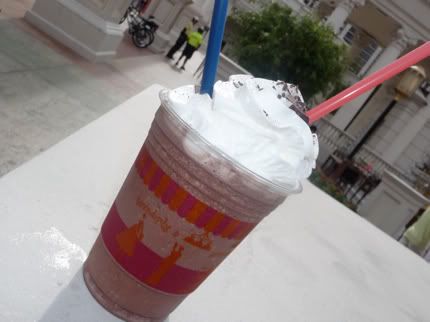 UM. It did NOT disappoint. I don't like whipped cream, but otherwise I nom nommed the heck out of that! OK, I did share, but probably not half! :)
I told my Dad we were definitely not leaving without another one of those before we left Vegas. Despite ringing in at nearly $10, I needed more!
We got my chocolate decadence from the to-go window and hurried over to Bill's casino for the free
Big Elvis
show in the lounge. At first we thought we JUST missed getting a lounge table, but after a little shifting around we found two great seats almost right in front. HOLLA. We originally planned on the 3 pm show, but clearly that didn't happen. 5 pm it was, and even then we cut it kiiinda close. (Cut it close to getting a seat anyway, we probably waited a good 15+ min for the show to actually begin).
Big Elvis is this guy who's probably about 400 lbs (hence his name, though he recently lost an additional 400 lbs this past year-go him), but who is still voted one of the top 10 Elvis Impersonators of all time. He was pretty good. I don't know about top 10, but I enjoyed myself, and hey, it really was free-free (I read online if you take a seat you're expected to buy a cocktail or two, but the waitress had already been by by the time we got settled and never seemed to make it for round 2. Not to mention they served $1 margs and $1 beer though, so $1 for a cocktail hardly counts). Both my Dad and I said if the waitress came around a cocktail sounded pretty nice, but if she didn't? No biggie. I guess she decided for us! It was a nice way to relax for an hour in the cool a/c with some fun, live tunes. I just wish he had played Jailhouse Rock and my Dad was hoping for Heartbreak Hotel. But ya win some ya lose some, I guess. We could have requested them, but the hour flew by too quickly.
I was shocked that when Big Elvis asked for volunteers my Dad didn't jump at the chance. Usually he's all about that stuff. And usually that would embarrass the hell out of me, but for some reason the ONE time he decided to be shy, I kinda thought it would have been funny. Oh well :-P. I probably would have died if he actually did it (the guys had to go up on stage and rock out with plastic instruments lol), so I'm sure it was for the best ;).
We had planned on somewhere between a 1 and 3 hour rest scheduled in before dinner reservations & our late evening show, but as usual that plan went bust. More than bust, in fact. We were pushing the time as it was, so we couldn't push back the reservations like before. We barely made it back to the hotel in time to throw on a change of clothes and grab a cab. There was no waiting for a bus this nite. Sorry, Dad. And my phone was nearly dead to boot. Frustrating! A girl can't function without her iPhone, dontcha know? But I had bigger and better plans waiting. Social networking would have to wait *gulp*....did I really just say that?!
We were so rushed, I didn't even remember to ask my Dad to take the requisite outfit pic until we got in the elevator (luckily we were alone, lol)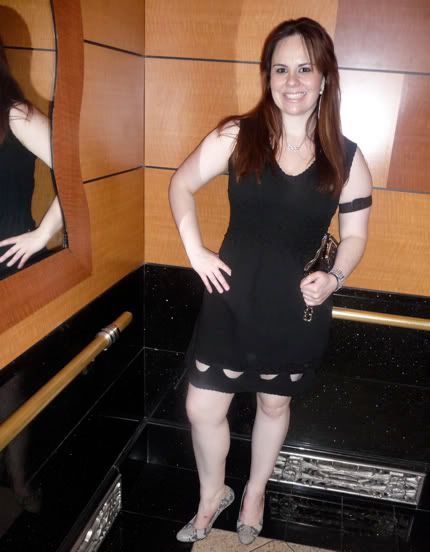 I'm not sure how I went from looking puffy and slightly overweight at the beginning of the day to almost skinny here, but I'll take it! LOL (and yes I'm wearing heels. My loves!)
We made it just a couple of minutes late to Bobby Flay's elusive Mesa Grill *and the crowd goes wild* lol. I was looking forward to this meal so much!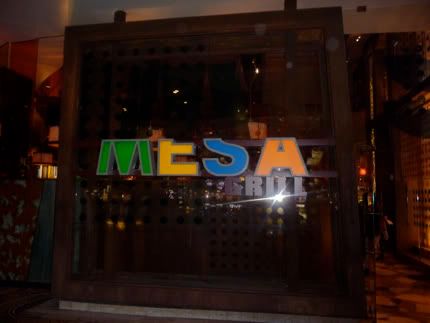 outside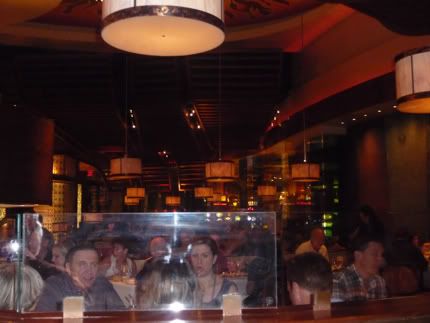 inside...not the greatest shot
I started with a blogger-suggested cactus pear margarita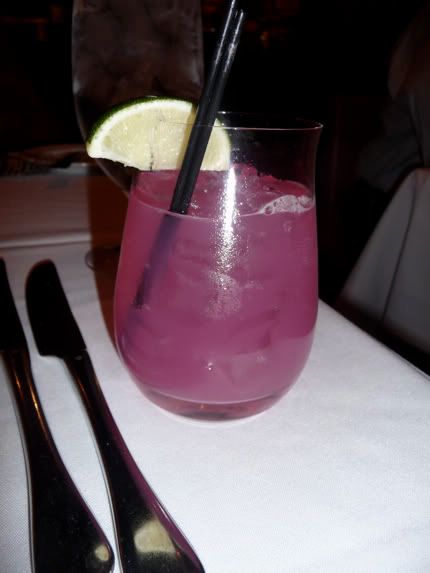 Ahh, yes, definitely tasted like pink lemonade mixed with a margarita. Slightly sour, but very good. And I'm not even a margarita person. I wanted a second, but oddly nobody ever asked, so I just stuck with the one.
My Dad and I kept flip flopping. I had warned him in advance we were FOR SURE going to be trying 2 of the most popular appetizers. Even reviews online from people who didn't like the restaurant loved these 2 appies. The entrees are very expensive and I didn't know if we'd be hungry enough for 2 after all that, so we agreed to split one. Most likely my choice (as usual, duh), the mango spiced tuna. UM. YUM.
Yeah, well, that's what we SHOULD have done anyway.
At the last second my Dad questioned why we weren't ordering the mushroom and hummus quesadillas drizzled in truffle oil. He said that sounded right up my alley. Well, yeah, but I had other plans in mind, Dad! Gosh!
Only, dammit, after he put that idea in my mind I certainly couldn't skip it. I mean, he himself said it was a very "me" choice. What if I was missing out on perfection. UGH.
THEN, he noticed a chili relleno entree. The cheapest on the menu, but he loves chili rellenos.
I came up with the brilliant idea of getting all three appetizers and the chili relleno and just splitting all of that.
My dad (wisely) said that was too much food, but I persuaded that we could take the leftovers to go for a midnite snack. Brilliant, right?
Well. Kind of.
First came the bread basket:
Some sort of delicious raisin bread, OK blue corn bread (which my Dad wanted to joke with the waiter and ask if that meant it was moldy, since the inside was blue. I pleaded with my life for him to LET IT GO and not embarrass me, LOL), and OK jalapeno bread. My favorite was (obvi) the raisin one. Yum. I tried to limit my bread though, because, well, you'll see.
The three apps came out together....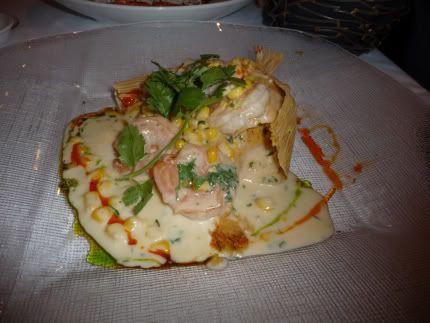 shrimp tamales


goat cheese 'fundido' queso

& the quesadilla (side note: I guess that's the hummus on top, but I seriously don't remember that at all! I didn't even really taste the hummus and wondered why. HMM!)

So yeah. That was a LOT of food. We plowed through as much as could, as fast as we could. And failed. We had leftovers (and were stuffed silly) from that part alone. Probably 50% of the food was leftover, in fact. We both prayed the waiter forgot our entree. At first it was looking like he might have, but at the last minute...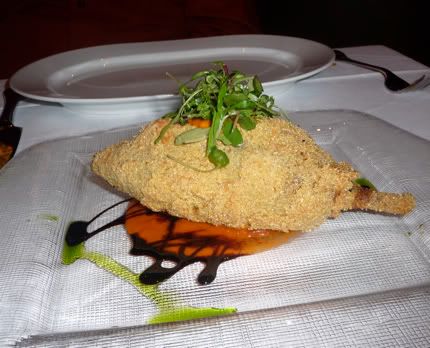 Ta Da.
OK, well at least it was small. But um, really. This was it? The entree? No sides, nothing. For $24? I know the other entrees were more in the $40 ballpark, but this was appetizer sized. It would have been better suited on that menu and maybe closer to $16 if you ask me. But I guess Bobby Flay did not ask me, now did he?
Here's the ooey gooey inside....
My Dad didn't even like it that much. I think he took 1 bite and called it quits. Maybe 2. I was already about to burst, but I think I made it to 3 or 4, before boxing it with the others.
The food was very good, especially the tamale and queso (gotta love internet reviews). I must say I expected more overall, but I also wasn't disappointed, if that makes sense. And as previously stated, I wish I had tried the tuna instead of the quesadilla, but nothing was bad. My Dad agreed. And he also agreed with me that this was by far our favorite atmosphere/decor of all of the restaurants we dined at this trip. Nice job, Flay. Color me (mostly) impressed.
Then, it was time to head over to the Mirage for Beatles Love. Another thing I'd been waiting years for. Hell yeah!
But first, we had a little time to kill, so we made our way to the Beatles Revolution bar to take advantage of the 2-for-1 drink coupons that came with our show tix. At the last second my Dad SAID he didn't want a drink, but he took 1 of the 2 beers I ordered (and I later even gave him half of mine when I got a headache, even though I was the one who said I wanted 2 drinks for the show). But um, the total came to like $7. For the price of 1 Miller Lite. Come ON. That's NOT 2-for-1, that's 2-for-2. But whatever. Might as well have gone for a mixed drink at had I known that. But with the coupon I was fine. I'd have been really irritated at $14 for two crummy beers. And it wasn't even my money.
Shockingly, my frugal frugal father did not ask me for a dime even once by this point. I think I gave him one dollar for a tip at the Fab Four bar when he ran out of singles, but other than that, nothing. 9 out of 10 times at home he likes me to pay for my alcohol (not that I always do, because I don't carry cash and he usually forgets later on, but he still brings it up anyway, LOL). And he didn't ask me to tone down the $ restaurant choices or anything. Normally I'd be inclined to think it was feeling sorry for me for my surgery, but he knew I made these reservations BEFORE I even got sick. Definite head scratcher. I guess he just figured we never go on vacation together, we got an unbelievable deal on the plane and hotel room, so he'd splurge elsewhere. Fine by me! And maybe a little bit of surgery guilt mixed in didn't hurt my cause.
Anyway.
It was kind of dumb. The Revolution bar also had a nice little loungey club place inside, but they wouldn't let my Dad in with our leftover food. Lame. At least we could grab our drinks at the front bar, but that's not as cool! Oh well. He said I could check it out myself, but that's boring.
Surprisingly, we still had time to kill (and here we thought we might not even make it to the bar in time!), so we gambled a little. I think we won another $20? Maybe $10? I forget. I lost my (well, his) dollar on the I Dream of Jeannie machine I had such lucky feelings about. Still not over that upset, LOL. But otherwise we were quite the team. 25 cent slots, you have nothing on us!
2 pee breaks later (oh, is that TMI?) and then it was time for the show. YES!
At first we saw these curtains up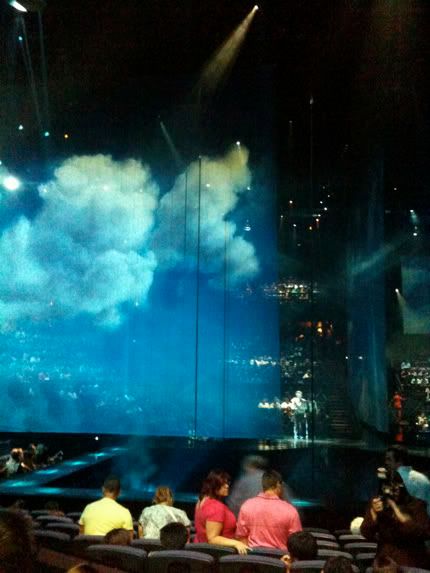 And wondered up the obstructed views. Turned out they're only for the first song. Never fear. Pretty cool.
I LOVED it. My Dad did too, but said he was a little overwhelmed with all of the tricks going on at once. He's a horrible multitasker, though. He can't even walk and talk on a cell phone at the same time. But man, it was good. I wasn't sure how I stayed awake, but thankfully I made it! Our seats were great too. It was just...great.
As SOON as it was over though, I wanted to HIGH TAIL it back to my bed. And I meant A.S.A.P. Luckily (heh), I accidentally left my bus pass in my other purse, so I (politely) begged/demanded we cab it back again. My bad. But I think even if I had brought it, I would have done the same. I couldn't move one more inch. I was D-O-N-E.
I was still having some post-surgical pain, but mostly just in the mornings. Other than that, I'm really not sure if I was compromised much at all. I mean, a little bit. Hello, I went to bed when most people were just getting started for the nite. But otherwise I didn't let it bring me down. Obviously. My Mom, on the other hand, was having a nervous breakdown at home after hearing that I/we refused to rest. She was exhausted just HEARING about our plans, but a girl's gotta do what a girl's gotta do. No stopping me on vacation, no siree. And for his age, my Dad is a freaking trooper as well. Maybe there
is
something to his (ridiculous) overuse of vitamins, minerals, and supplements. But don't tell him I said so ;).
I forgot to mention this in my last post, but from walking so much the nite before I developed a slight limp (and my Dad woke up in the middle of the nite with severe muscle cramps). But we both woke up feeling OK this day. But it took DAYS for our hamstrings to fully recover. Despite taking the bus and taxis, we still managed to clock in almost as many steps as the day before when we walked EVERYWHERE. Not really sure how that happened! But I sure needed it after all my indulgences.
Speaking of which, as you can see I ate dairy. And I had a nose like a faucet all trip. Coincidence? Doubtful. I still don't think I'm allergic/intolerant to dairy per se, but it does go to show it's not the greatest thing for the body.....mine, at least. But I was just glad I didn't have a lot of stomach distress. Phew. That was my biggest concern.
P.S. There was no midnite snack to be had. Cheese sure sticks with ya. I went to bed still stuffed if I recall.
xo,
Amanda