May 26
My Dad and I woke up extra early once again. 7:30 maybe? 8? We lounged around the hotel for awhile (um closer to 3-4 hours I think), making detailed lists about what we wanted to accomplish this day. Our vacation had everything tightly squeezed in, but there was always room for more + a lil tweak here and there.
Soon after we left our hotel, I started my day off with Coffee Bean! We don't have them in Texas (*tear*). I'm still not sure how this came to over $6? (the menu said $4-something, surely the soy sub wasn't $2?) But it was worth it. It was my first coffee drink since surgery and I was
scurred.
Luckily it went down smoooth. I was STARVING, but this helped curb the appetite quite a bit. Oh, and it was a small hazelnut iced soy latte. Delish. A little sweet for my tastes, but I'd still drink it again and again.
nom nom nom....
Next up was a quick stop at the V box office at Planet Hollywood (where I got the coffee too)/the Miracle Mile shops to pick up our Fab Four tickets (a Beatles Impersonator band) for a show later that afternoon. We upgraded from general admission tix to VIP + a "free" drink coupon for only $11 extra a ticket. Not bad.
some light up thing on the ceiling that changed colors I thought was interesting. You'd have to see it in person, methinks. Orrr, maybe I'm just easily amused.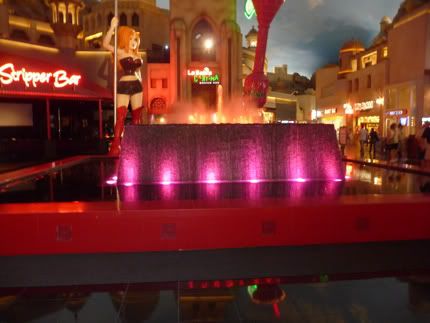 fountain + stripper bar right in front of the ticket box office. Classy. ;)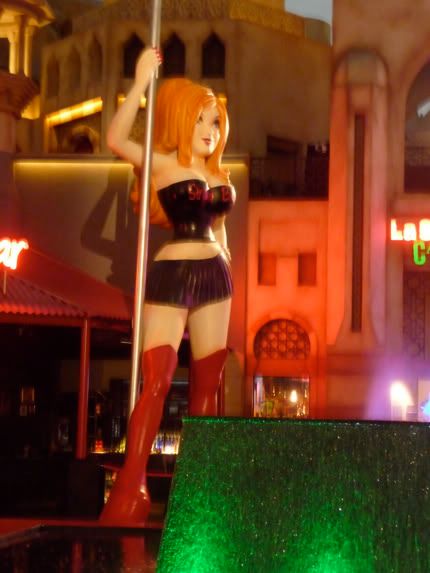 LOL
Finalllly....foooood. Crepes at Paris, what could be better? (aside from the coffee bean WITH the crepes, but alas I was maybe 5 minutes too late for that!)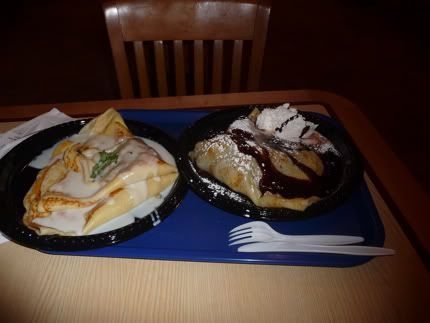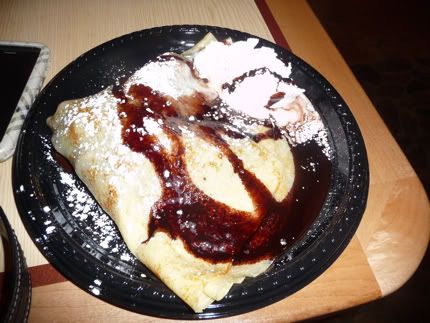 Actually, the crepes at the mall kinda by me are even better, but shh. These were still good.
I went for the classic nutella + banana combo & my Dad tried the seafood. Well, he ended up giving me 1/3 of his and vice versa. We both started with his since it was more meal-like. Bad decision. Kinda. It was really good, but I was far too full to finish my own. But hey, that's what to- go boxes are for!
It was also kind of dumb because they offer ALL of their crepes for $10. Fair enough,
however,
many of the crepes had multiple ingredients (my dads had shrimp, scallops, and I think one more seafoody thing?). Then, they had other fruit and cream and caramel and blah blah dessert crepes. As far as nutella goes, they ONLY offer it plain. Crepe + nutella= the end. To add banana was $2 extra. Lame! But worth it. But c'mon, nutella and banana for $12, but seafood and cream sauce for $10? How does that add up, peeps?
Moving along.
Here's the hot mess that I looked like this day: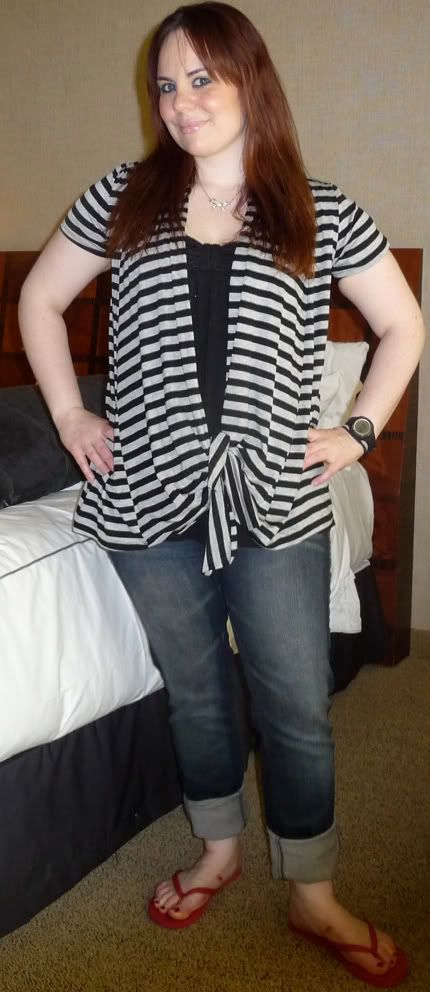 I neverrrr cuff my jeans, but I just felt like it. Huh.
Nooooot my personal best. Uggg to the gross cuts on my feet too (hence the flats. I never wear flats!) I bought some strappy wedge shoes I read MULTIPLE reviews about online that claimed they were the comfiest shoes EVAR.
Dirty liars.
Luckily, I tested them the day before I left, because I expected those to be my go to Vegas shoes. NOT. Owwwie. Not to mention, that gray/black stripey cardigan thing is a medium. It's the one thing I didn't try on before I bought it. I think a small would have been cuter, but oh well. For $12.50 I can live w/ the tent effect. Sorta.
More walking.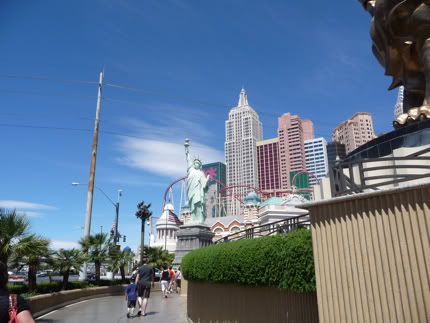 NY NY, my favorite Vegas hotel.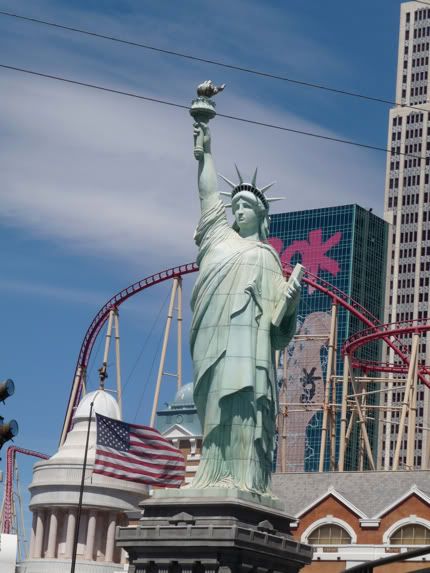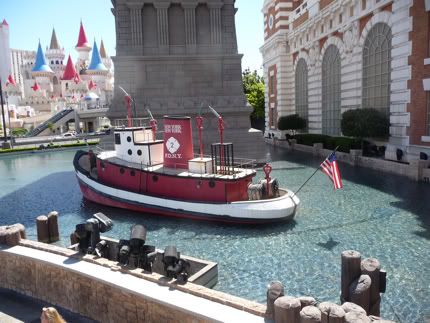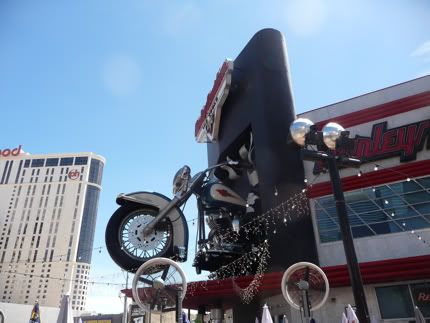 Harley Davidson Cafe, where my parents ate at their Vegas trip and had their pic taken on a motorcycle and still talk about to this day, b/c they had so much fun.
The "please stay off the bike" sign made me want to get on it even more! Such a rebel. Only...not.
I thiiink after that we (very briefly) headed back to MGM, our hotel.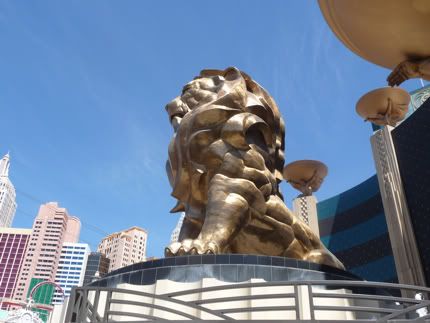 Where, for some reason, I felt the need to change again.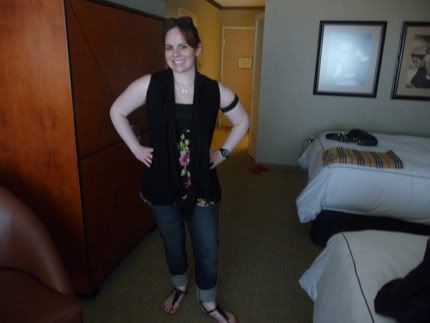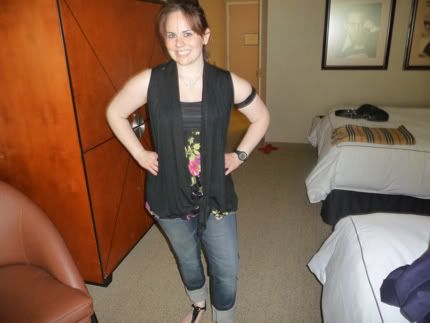 There we go. A little better.
Our itinerary suggested Bellagio buffet for lunch, but neither of us were terribly hungry. We decided an appetizer at Border Grill followed by a quick beer or two for Happy Hour, both at Mandalay Bay, were the better way to go.
We ended up being pretty late for our Border Grill reservation, even after calling to push it back, but they weren't too busy, so they didn't seem to mind. Phew!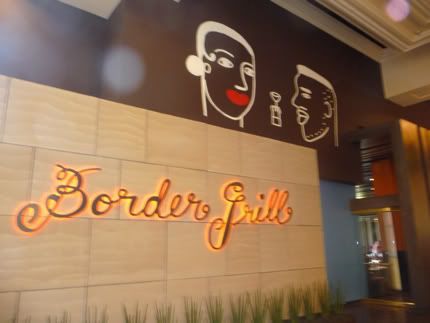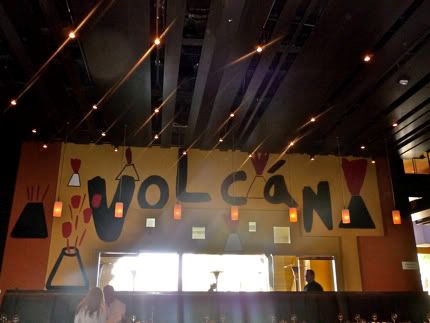 I was stoked about the seasonal white peach sangria (sparkling white wine, fresh peaches, etc..yum!), but it turned out they currently were promoting a strawberry variety. Oh no! The waiter brought me a sample and it was good, but not the saaaame as what I wanted, y'know? I pondered the watermelon mojito, but ultimately agreed on a full sized strawberry sangria. Why not? It was pretty good afterall. Just not what I was anticipating.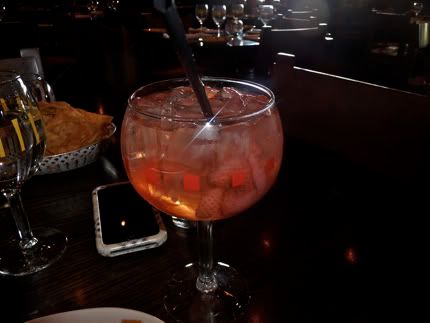 My Dad decided just water was the way to go for him, but I ordered the plantain empanadas and wasn't even very hungry myself (but knew I needed food to keep up with the boozing!), so he ended up eating half anyway.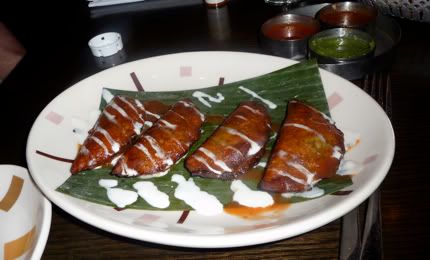 pretty good, not amazing. Tasted more like sweet potato than plaintain. But I was satisfied.
Plus his fair share of chips (OK, and maybe mine too, but I don't think as many as him!)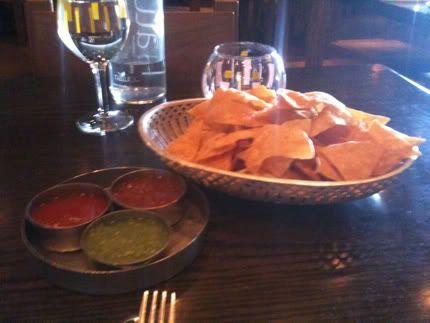 really fresh!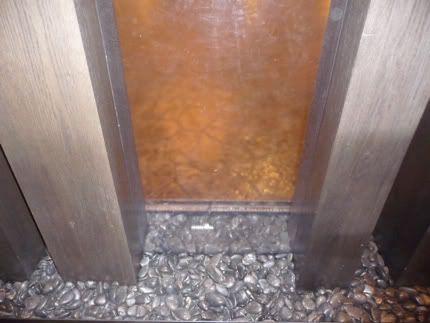 taken on the way out. I like decorative stones, what can I say?
The water costs $ (they won't use tap) and they're supposed to ask if you even want any (they didn't) and if so, if you want still or sparkling (they only brought us still, I wanted sparkling). But it was only 50 cents a person, so I got over it. Too dehydrated to
really
care. Water, water, me need waaaaater.
We had to hurry if we wanted to make House of Blues happy hour in time to leave for our 5:30 pm show. Luckily, we had about an hour. Just enough time to make it.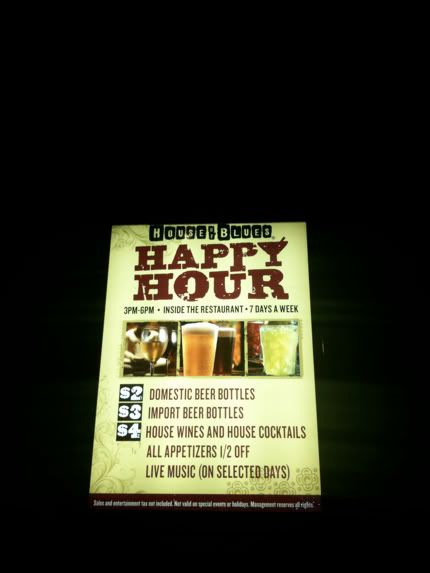 We each had a domestic light beer. For $2 why not? We were told by the hostesses at the restaurant entrance that live music was inside at the bar entrance, so we went that way. Oddly, it was nowhere to be found. Strange. But no biggie. We grabbed our beer bottles and took off and walked and drank along the way back to Planet Hollywood. Ahh, drinking in the streets. Vegas, I sure do love you!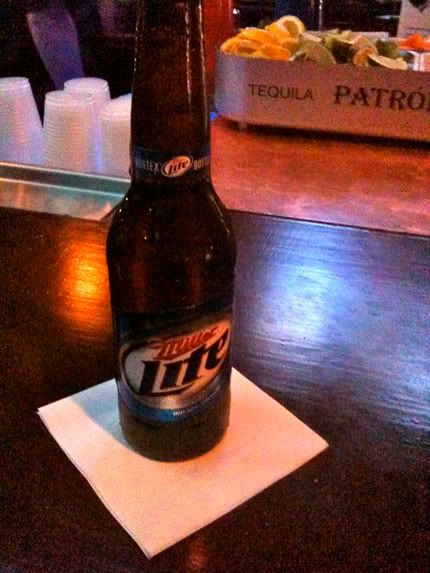 Ta ta
I'd never been to a HOB before. And I still feel like I kinda haven't. But hey, it counts enough.
Finally made it back to the tram after walking around the casino in circles like idiots!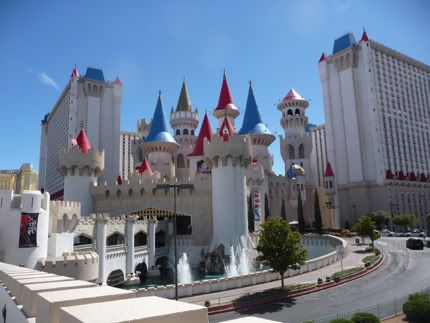 Once we got back to Excalibur we were back to our feetsies. So. Much. Walking.
pretty flowers I thought my Mom might like to see
Finallllly made it to the show's venue and grabbed our free drinks at the bar.
vodka soda with extra lime pour moi

I sipped it throughout the one hour-ish show and a little after, but still threw away part of it. Say what? Me, waste liquor? Something was seriously wrong with me this trip, alcohol wise ;).

The show was really great! The impersonators didn't have the charisma of the Beatles, of course, but they were close enough and put on a fun show. Definitely worth the time and money. My Mom would have LOVED it.

Then, back to more walking around.

I finally spotted the elusive Serendipity 3. Woohoo!!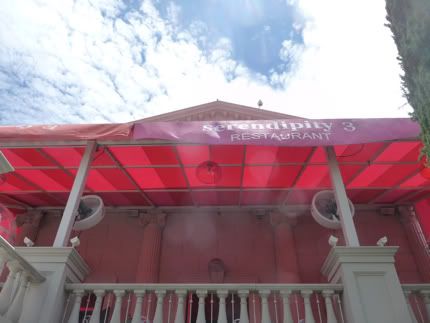 & I snapped this shot for my Mom, a Donny & Marie fan:
Can you believe their photo takes up the ENTIRE side of the hotel? Insane.
And then it was back to the Mirage to procure our Love tickets for real this time.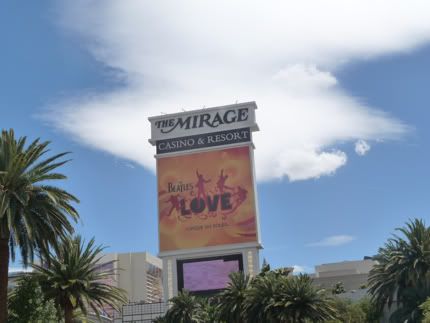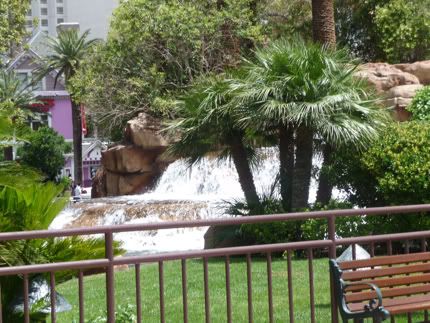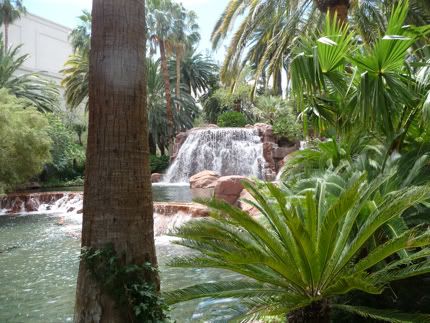 Success!
Had to peek into the gift shop to see if they had any interesting souvenirs. Unfortunately, not so much, but we scored big time with another motorcycle pic opportunity!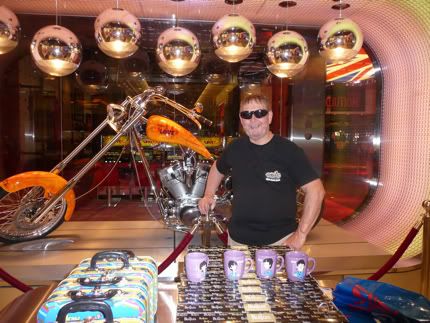 He's just too cool for school....:-P
All the walking was getting to us, so we decided to head back for as much rest as possible before our 8 pm dinner reservations. That and we had to change (3rd times the charm for me? Ha). Of course, that entailed even
more
walking. Lovely.
home sweet home at last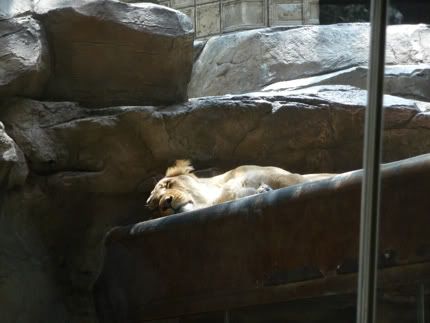 the lions were

always

sleeping. Of course, I completely understood. I could have used a bit more of that myself. Vegas is exhausting!!
My Dad pretended to pass out on the bed. He looked more drunk than tired, but my Dad barely drinks so we knew the truth :-P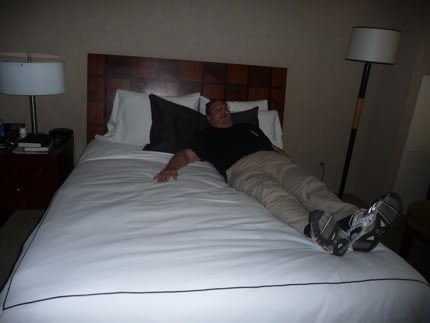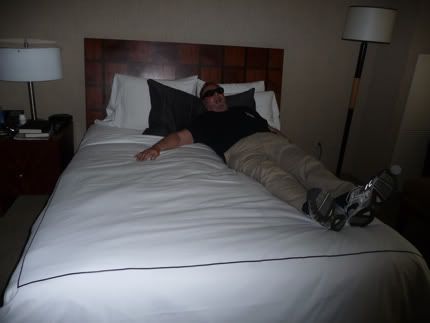 still not too sure why he wanted a repeat shot with his shades on, LOL

Unfortunately, our "rest" ended up being, oh I don't know, 10 maybe 15 minutes? And that was only AFTER changing our 8 pm reservation to 8:30. We tried to buy time, but it caught back up with us anyway. Pesky thing.

I was so tired I couldn't bare to take my jeans off to look cute in my dress. True story.


It still sort of worked out OK. I guess. I also kind of felt like it was too short and would look slutty. I'm weird. I was just feeling self-conscious, despite being in Vegas (and despite wearing the dress last Vegas trip, sans any cover up..p.s. it's strapless). Maybe it was just because I was with my Dad, who knows. Silly me.
We made our way back to Mandalay Bay (more walking!), where we went to dinner at the Russian restaurant, Red Square. Oh yeah!
Started off with the roll that tasted like a pretzel
Not bad. Not bad at all.
Followed by a dill salmon dish on top of a mushroom risotto. I forget what was in the fancy sauce. And it was topped with puff pastry, caviar, and some sort of small hard boiled egg half. I'm going to guess quail?
It. was. fabulous.
At first I wasn't sure about eating here, but was persuaded. THANK GOD.
The salmon tasted a lot like my own cooking. Pretty simple and easy to recreate. I basically just tasted salmon covered in dill. Easy enough. But the risotto. OH MY GOD the risotto. HEAVEN. I still dream about it. A-Maz-ing.
My Dad ordered something that I thought sounded great and probably would have ordered it myself if I still ate steak. It was the filet mignon strogonoff. Yum! Well, it seemed yum.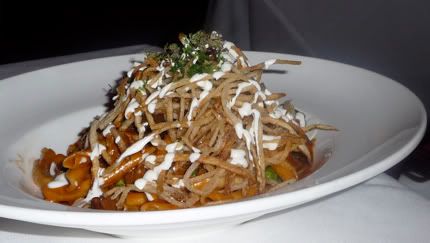 The noodles I assume were homemade. They were really thick, dense, and chewy. And the whole thing was covered with some sort of potato, which sounded weird, but actually made the dish better. I wasn't very impressed. I had a couple bites of noodle, and yes, one teeny tiny bite of filet mignon. Just because. I barely even tasted it, but I'm pretty sure it was cooked through. I am (was?) a rare steak girl, so...not my favorite. I don't know, the noodles kind of ruined it for me. Too dense/heavy. I'm glad I didn't order it, but felt bad my Dad didn't order something better. He said it was OK and didn't care, but agreed it wasn't out of this world (like my risotto!!!)
Much like earlier, I was out of sorts, alcohol wise, but couldn't pass up the chocolate martini my cousin raved about (even though I didn't see it on the menu). Plus, HELLO, although they're a restaurant, this place is known for being a vodka bar. I couldn't very well walk out of there sans vodka, now could I? Exactly.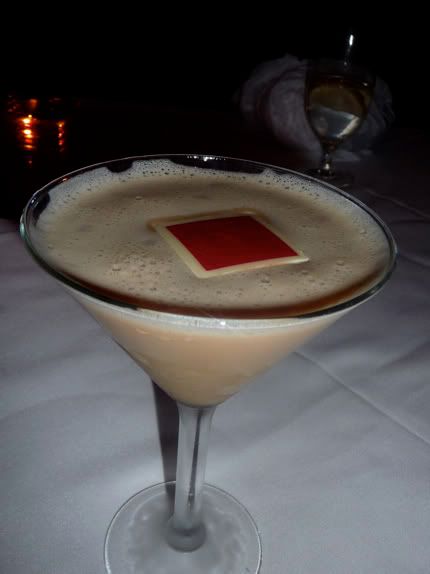 That red square is made of white chocolate, such a cute touch. I love stuff like that! It was good too.
The actual drink was just OK. It was my first chocolate martini, I believe. *gasp* Still a little strong for my post-op taste buds, so I gave my Dad somewhere between 1/3 and 1/2. But it was good. A nice end to the evening.
And as you can see it truly was the end of the evening. I was BEAT.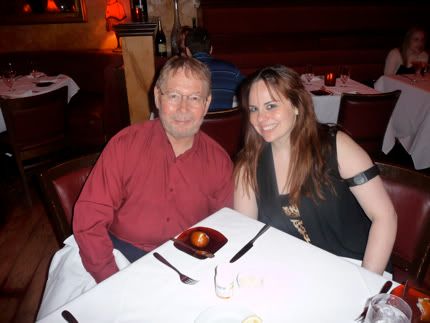 Again, NOT my finest look LOL.
So I wasn't turning out to be a Vegas all nite party animal. That's OK. I still walked OVER 15,000 steps and did everything I wanted to do. Who needs to be out 'til 4 am to always have a good time?
xo,
Amanda