May 25
I woke up slightly unsure of whether or not I'd be able to make the trip. Well, scratch that. I knew I was going, but I was in some pain/discomfort and wasn't sure if it was wise to push through, even though I knew I was going to.
Luckily, a pain pill later and I was feeling much better.
We got to the airport and realized we parked in the wrong lot and had to walk about 30 gates. Annoying already. Then, we finally got to the check in desk and the power was out. No air conditioning, no self-check in machines, a long line, an irate non-English speaking woman. You get the gist. Ugh. On the plus side, we didn't have to pay to check our bag, because they only managed to get one working computer back up and it would take too long to charge everyone. So there's that.
But then they tell us we have to go about 10 gates back (half way back to where we started, I might add) to go through security and THEN we have to walk allll the way back to our gate at the end of the furthest terminal. YAWN. I forgot to put my body bugg on, but my Dad and I guessed this took at least 3,000 steps to complete.
I grabbed a smoothie and a bottle of water and we went to our gate, expecting a slight delay. Er nope. Most of the plane was already seated. How did everyone get there so quickly? Weird. But glad we made it. Sheesh!
Take off and landing were a bit shaky. I don't do well with shaky flights. But otherwise it was OK. I took one more pain pill, read a few Clean Eating Magazines, took a short nap, and we were there. Hooray.
Once we checked in to the MGM Grand I changed into something a bit more fun.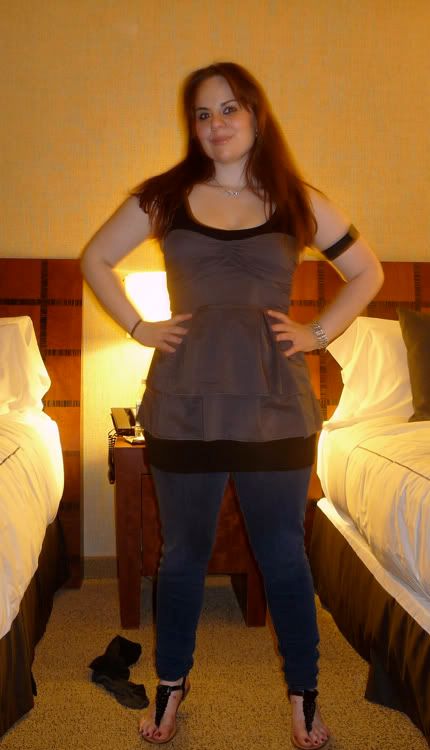 LOL how I'm standing on my toes since I'm so used to high heels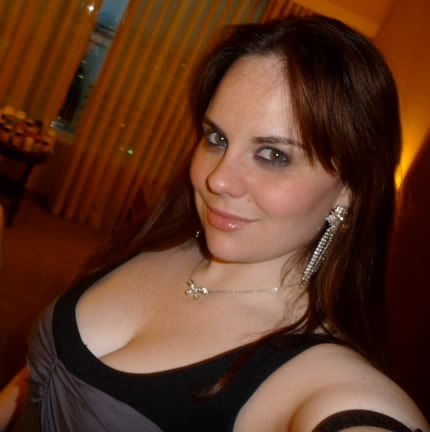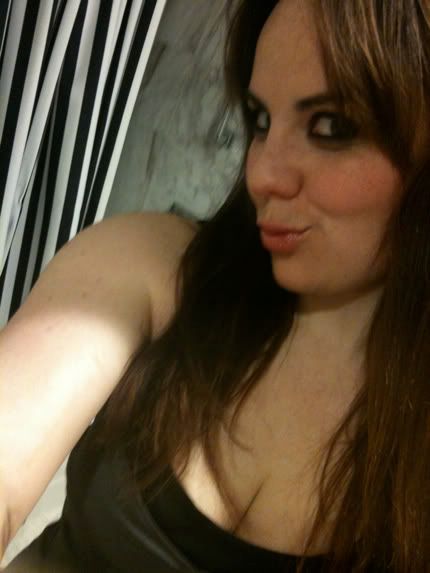 Actually, I think I wore a grey jacket-thing most of the time, but I guess that escaped the camera.
OK, OK enough of me....
We hit up Mandalay Bay to have a couple appetizers and a drinkie at Rum Jungle. I've wanted to check this place out for YEARS and finally here was my chance.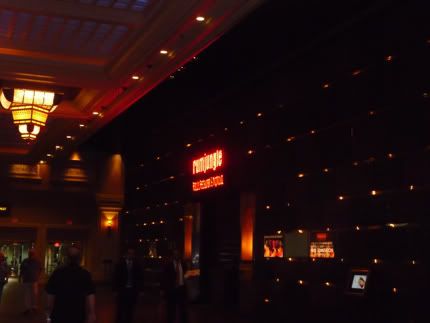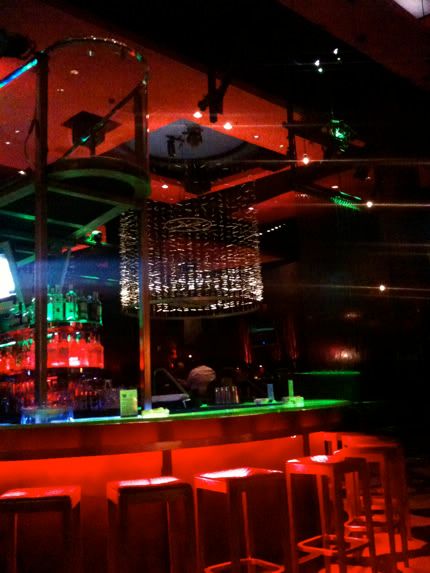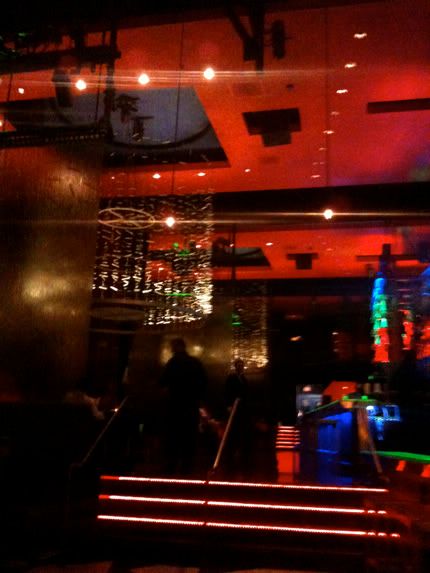 We ordered the ahi tuna poke appetizer with plaintain chips
(bottom layer consisted of seaweed salad, middle was raw ahi tuna, and top was a mango and avocado salsa. My Dad thought it was weird/just OK, but I enjoyed it)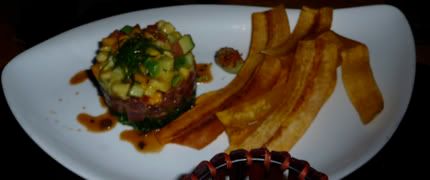 The coconut shrimp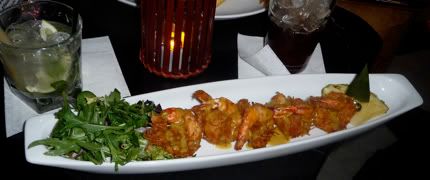 My Dad preferred this one. I thought it was good too.
& I couldn't decide on a drink, so I went with a plain ole mojito to let the rum speak for itself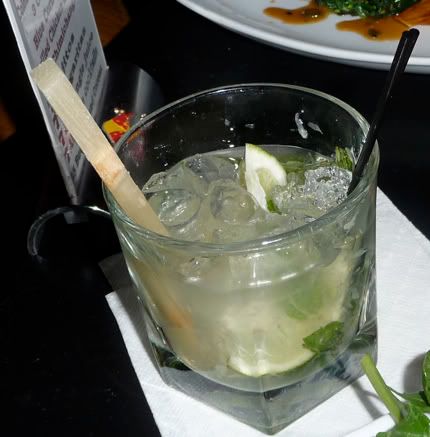 Eh. Small for the price $13-16 I want to say, I forget exactly how much. And mediocre at best.
The ambiance/decor and food were worth checking out, but I expected much more from the drinks. Oh well. Still glad I finally made it.
Took a pic with the headless statue at the sister restaurant next door that we had reservations at the following evening: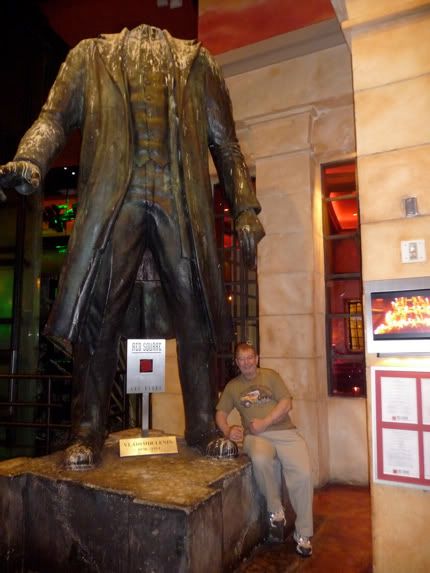 We walked around a little more and my Dad gambled some. He was up about $30 at first. In fact, he won $20 (only put in $1) on his first slot, but got a little too into the Wheel of Fortune spinning wheel and lost $50 in only 5 spins. Ho Hum. If he went up again we decided we'd check out the Ice Bar, but ended up not gambling anymore that nite. The Bar was closed for a private party anyway, so it was OK.
We did find a couple of sister restaurants with his initials right by the Ice Bar...kinda fun.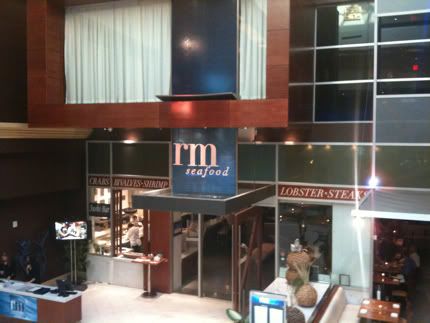 Then, we briefly went back to MGM so my Dad could change for dinner. He was still in his casual plane clothes.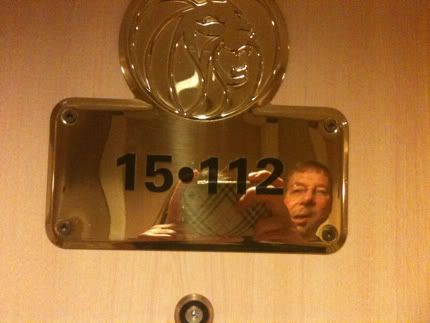 Took a pic of our room number to make sure we never forgot it LOL. We only had to consult this pic once ;)
Next up was dinner at the Venetian's trendy asian fusion restaurant, Tao.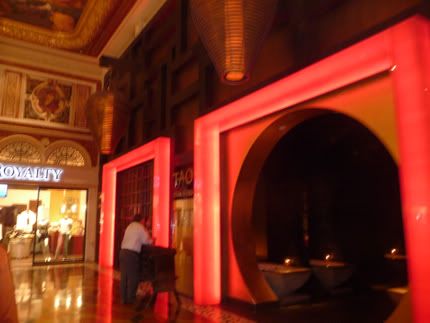 Bad pic, but they have pretty rose baths welcoming you as you walk inside: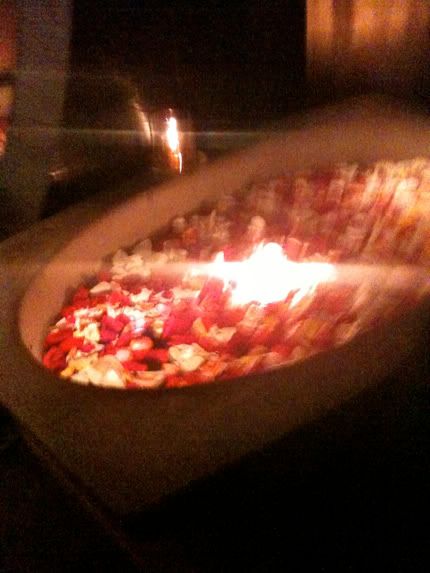 To start, I ordered a lychee martini
It was OK, just a litttle strong. I didn't finish it. It had an actual lychee fruit inside, which was a nice surprise. My Dad took a sip and wasn't impressed.
My Dad and I later realized (well, I did, my Dad agreed lol) that drinks were probably tasting strong/burny to me because of the breathing tube they have to put down your throat during surgery. We bet it made my throat a little raw. But luckily it wasn't too bad. I was more concerned about being able to digest (or whatever) the alcohol after surgery. Luckily, it seemed just fine. I just didn't want to overdo it, especially not so soon.
For dinner I had the ginger glazed salmon on top of udon noodles mixed with spinach + 1 piece of hamachi (yellowtail) nigiri sushi.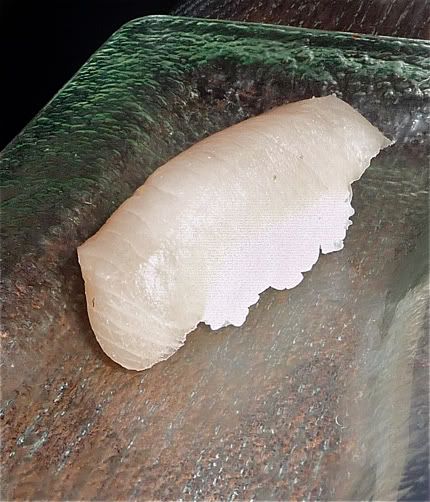 I read rave reviews about this dish from a fellow blogger. Normally I'd order all sushi, but this sounded too good to pass up (even though I knew I wanted to order salmon the following nite as well). The salmon was slightly disappointing, but still tasty. It was promised to come out medium-rare, but was more like medium to medium well. Despite being a little dry, the flavor was still pretty good. The noodles, however? PHENOM. I loved them. Carbalicious. I almost substituted them for brown rice, but am so so glad I didn't. Delish. I left a couple bites of salmon for my Dad, but I ate every last noodle on that plate (well, I may have given him 1 or 2). I left stuffed, but it was well worth it.
The sushi was a little bit of a waste, as all of the other strong flavors I had already eaten kind of overpowered it. I barely remember eating it at all. But I think it seemed pretty fresh.
My dad ordered the kung pao chicken + a side order of tempura eggplant.
He thought it was amazing as well and was very impressed. I had bites of his vegetables + an eggplant tempura. He offered me 2 pieces of eggplant, but I was too stuffed. Bummer, because it was extremely delicious. The veggies and sauce seemed good too. He said it's a shame I couldn't/didn't want to try the chicken, because it was fab.
So glad he liked it too.
No joke
, he couldn't finish it all, so he even used our hotel blow dryer to heat up his leftovers to enjoy a snack at midnite.
My Dad claims he'd never been to the Venetian before. I was shocked! He's been to Vegas a bunch of times (albeit not too recently, but still). I showed him the gondola rides and shops.
My Mom and I are meanies and won't let him get a motorcycle, so instead I just take pics of him in front of other peoples/stores, lol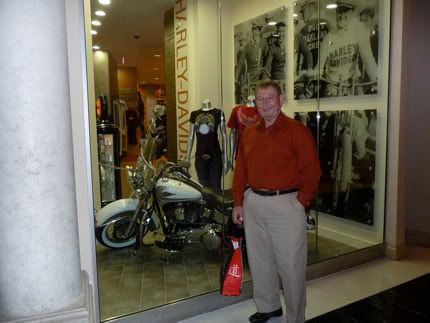 To finish the evening, we went to the Mirage and tried to pick up our Beatles Love tickets. Unfortunately, the box office was closed for the nite. Oh well, we tried.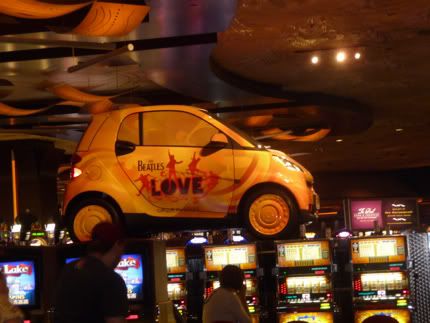 We did a ton of walking, but I did and felt pretty good! Pretty proud of myself. I did pass out around 11:30, but hey, that's 1:30 am my time. Not bad for someone almost straight out of surgery.
One last LOL thing. My Dad is a vitamin/mineral/supplement FREAK. He takes over 20 a day, seriously. This was his little supplement table at the hotel....
I bet the maids thought we were nuts!
xo,
Amanda