March 4
pre-treadmill fuel:
-1 slice of lightly toasted brown rice bread topped with a little butter spray, a healthy shake of cinnamon, and a pinch of organic cane sugar
-green tea made with 2 bags and lemon juice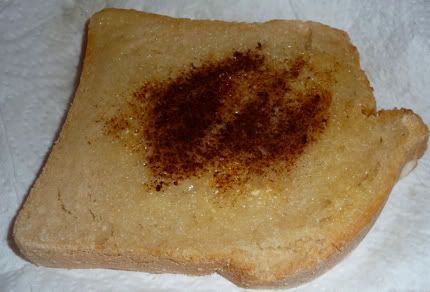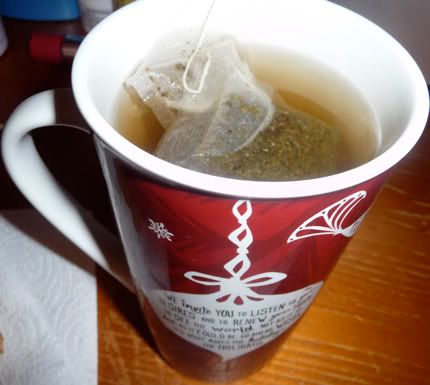 Not nearly as good as I envisioned, but it will do.
workout:
-15 min jogging on treadmill
After I finished the toast it was all I had time for. Boo.
Then I had my LAST PHYSICAL THERAPY APPOINTMENT. HALLELUJAH. Now I have to go back for chiro work probably, but NO MORE PHYSICAL THERAPY, I REPEAT NO MORE PHYSICAL THERAPY. Oh yeah.
-about 3/4 of a beaujolais poached pear & goat cheese salad with mixed greens and a lavender-honey dressing
-venti nonfat cappuccino
-water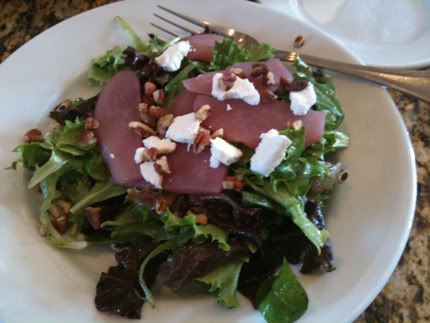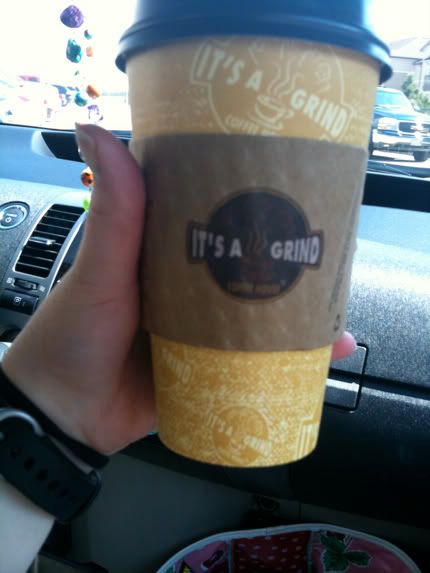 I didn't realize the cafe we were going to have lunch at had their own coffee bar, oops. Oh well, I love It's A Grind.
So. Good. I ordered the salad as an appetizer to split with my Mom, but slowly she kept pouring more and more on my plate lol. No complaints here!
-3 cups of Aveda tea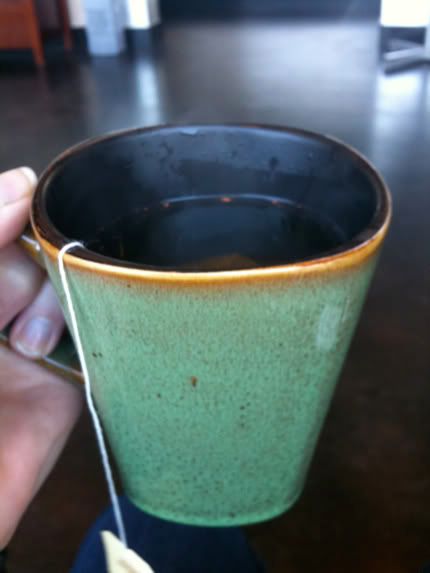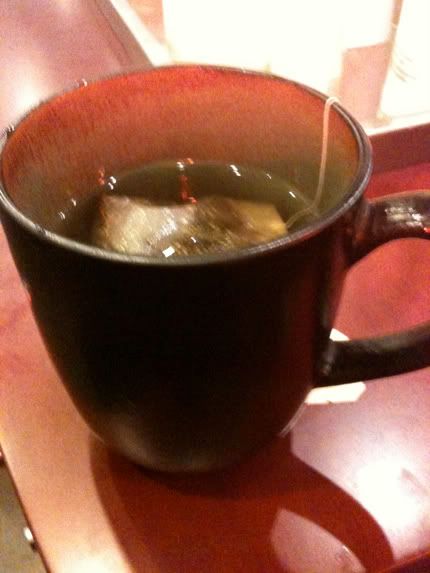 x 2. Not sure why they switched my cups, LOL.
-the small leftover half of the zing bar from yesterday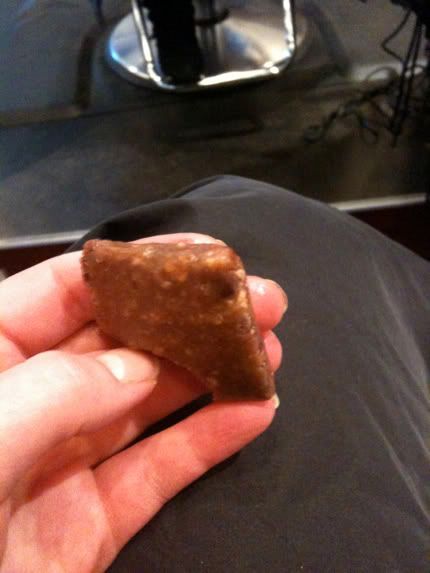 I got my hair colored + shaped + went back to full bangs. Buh-bye five head.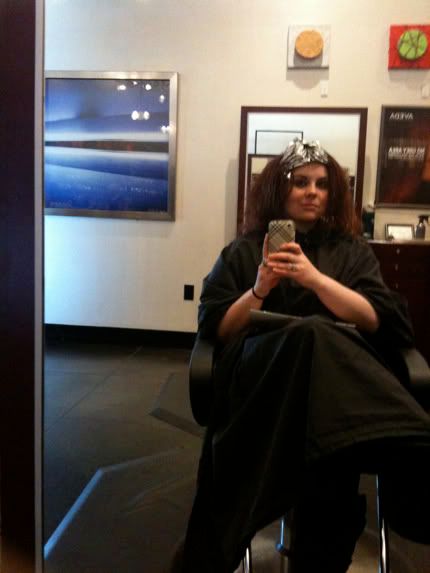 Not my finest look...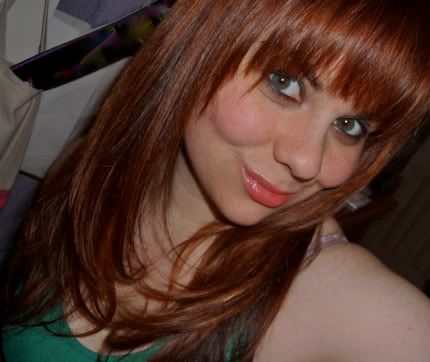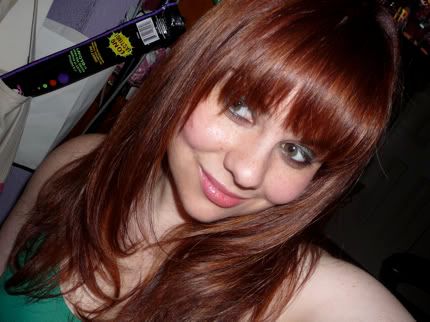 Ahhh, there we go. Much better.
-small caesar side salad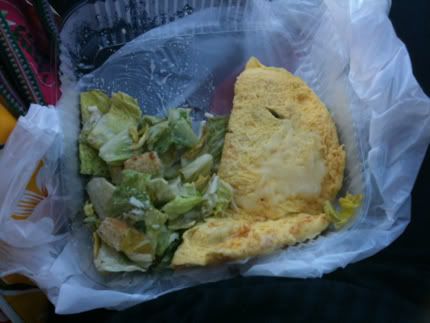 I asked for fruit salad, but got it to go (because they were too slow and we had to make our hair appts) and didn't have time to ask for it to be switched. Oh well. I'm not sure why I would have ordered 2 salad-salads in one meal, but I digress...
-french omelet with herbs & goat cheese
-water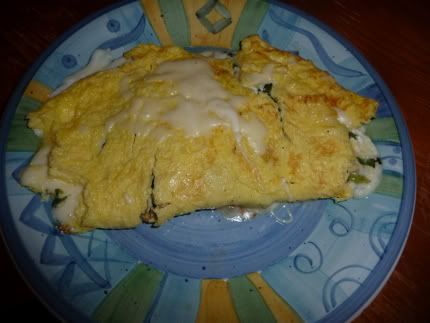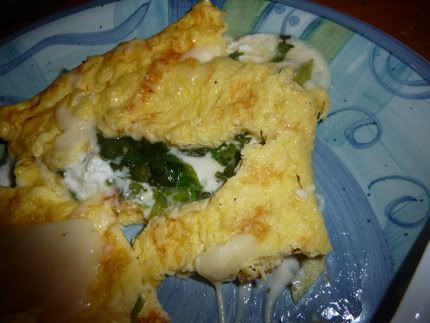 Again not as good as it sounded, but it was still fine. Aren't french omelets supposed to be thinner? Oh well. & It would have been better with just egg whites. I'd still go back to this place. Even though my experience was less than stellar (aside from the BOMB salad), I still liked it a lot. The menu is fab.
-a few large strawberries with a dollop of coconut liberte and a pinch of granola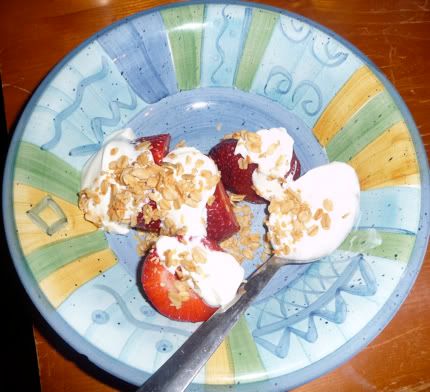 MMMM.
-a little roasted banana gelato topped with chocolate syrup, half a sliced banana, a dollop of tru whip, and half a dollop of ricemellow cream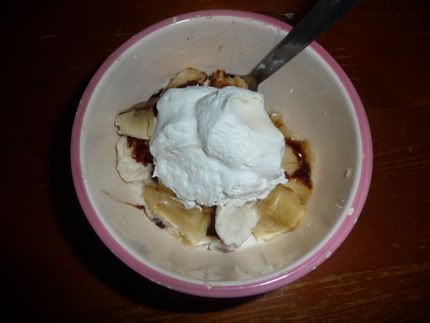 So good, but I only made this because my mouth hurts so effing badly I wanted to numb it. I had a repeat of my amazing tilapia dish planned, but no hunger + feeling sick + in pain = did NOT want to cook (or eat) dinner. I'm pretty sure all that sugar is going to make my tongue rebel too. Please work, ibuprofen. This pain is no fun.
At least I look good ;).
xo,
Amanda