March 12
I must confess, last nite after my post I did some snacking before I went to sleep (crackers & laughing cow + gummy bears). FAIL. I was huuungry, but still. Shoulda just gone to bed. Or at least stopped after the crackers & cheese, since I don't like to go to sleep really hungry. But...it happens. On the plus side, I stopped myself before eating a few chocolate truffles. Which, trust me, I was realllly trying to talk myself into. Moving on!
workout:
-25 min elliptical
We never have time for a good workout lately. Boo. Better than nothing though and I knew it would be cut short, so I tried to push myself. I wasn't really feeling it, but I did my best.
-2 chunks of energy
-egg white puff on a roll with a garlic & herb laughing cow wedge, 1 slice of turkey, and a dollop of pesto (SO GOOD)
-orange sparkling water with a splash of cranberry juice (not enough juice)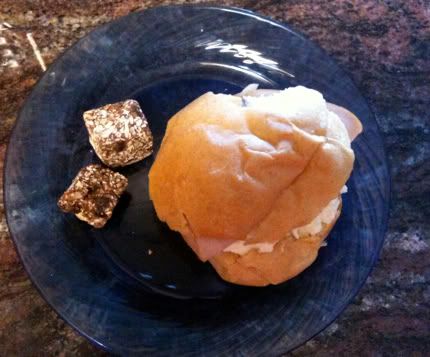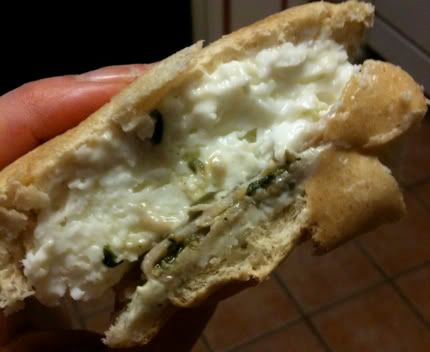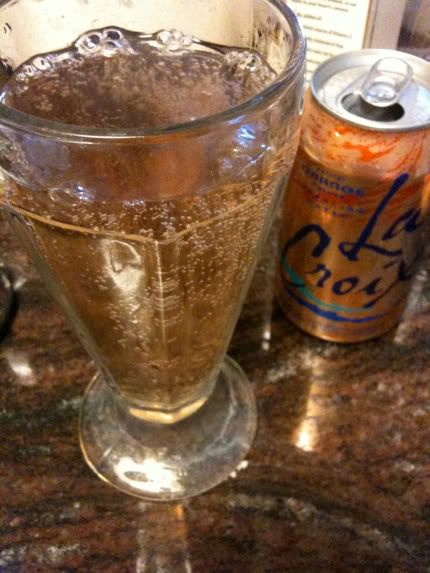 -small skinny strawberry fit n trim smoothie w/ immune booster (my precccious)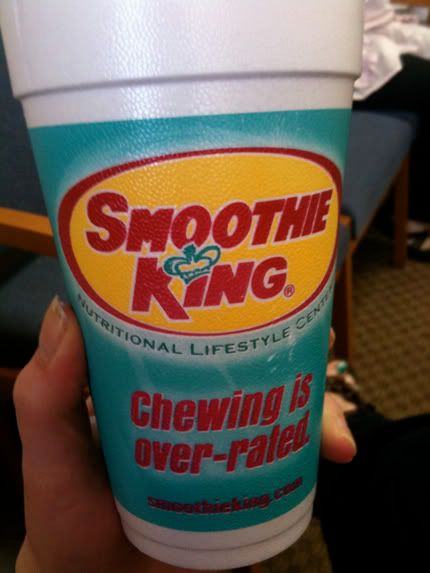 Before work my Mom and I went to get her allergy shot, but their office is short-staffed lately due to people quitting and being fired, so they told us to come back in 20 min. Fine. Smoothie King, it was. But ugh, the high school got out for off-campus lunch at that time too. Too many unruly teens running around, half of whom (is it whom? who?) barely knew how to drive. And some were trying to talk real big and smoking and ugh. Awful. I hope I wasn't that annoying at that age, lol. I can't believe it's been almost 9 years since I was in high school (I was home schooled my last 2 years, so I left at 16). I'm old.
At least their indecisiveness was good for me. None of them at Smoothie King could decide what to get, so I got to go ahead first. :-P
-hybird (aka the smallest) spinach burrito w/ chicken breast, peppers, onions, roasted garlic, tomato, lettuce, guac, and sour cream
-large iced tea
-water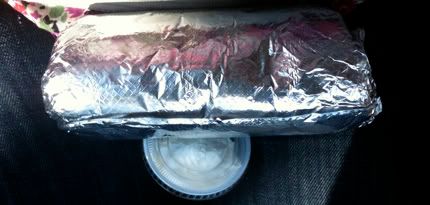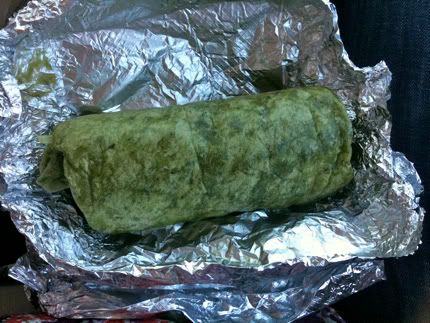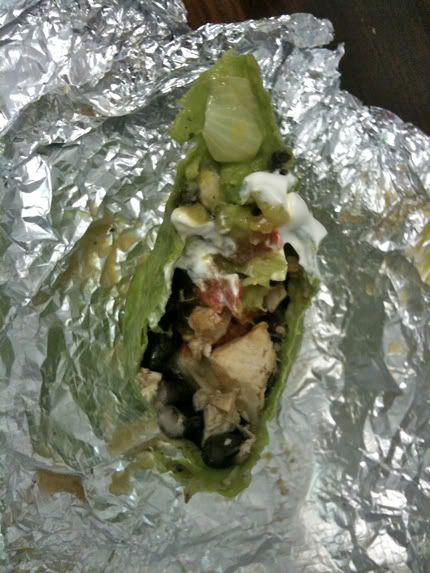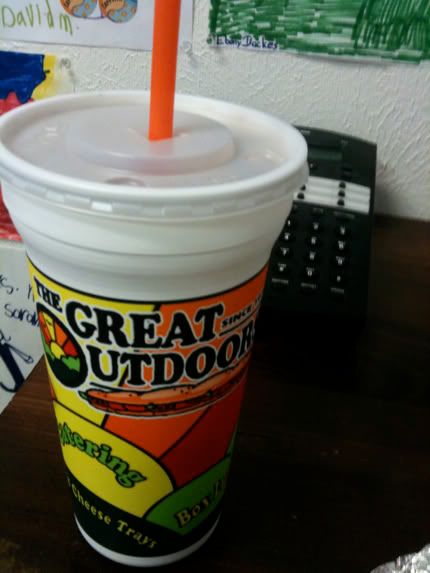 I'd never been to Freebirds before, but Kelly from
Happy Texans
has been raving about it lately and it's right by our office, so I gave it a shot. It was pretty good. I think I'll go for the bowl next time. As much as I loveeee wraps, I'm not a huge burrito person. Not sure why. I'm also curious to try their rice. I hate the cilantro flavored white rice the other places give, so I automatically said no when they asked if I wanted rice. Afterward I noticed they have more of a spanish style rice. Yum. That'll be better in a bowl anyway, so no biggie. I didn't need a tortilla AND rice.
-one milky way midnight mini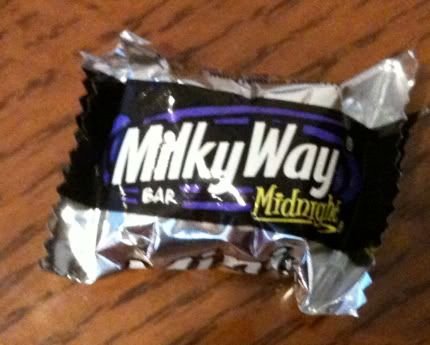 It was just around and I was still a little hungry. Because a tiny candy bar bite will totally fill ya up, dontcha know?
-side of bbq beans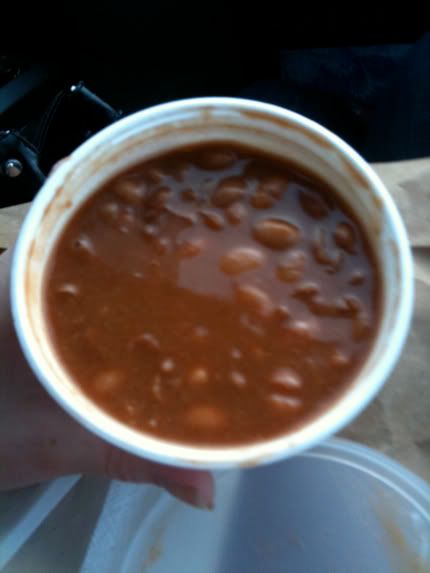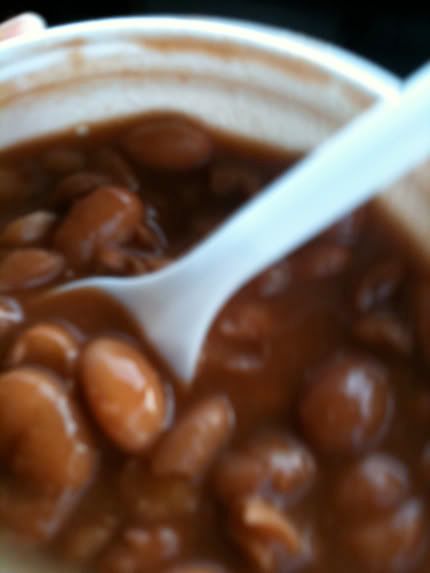 Probably unnecessary, but I was really hungry and we didn't have dinner reservations for another 2 and a half hours.
-spaghetti w/ 2/3 of a giant meatball
-3 slices of garlic bread
-about 1/4 a piece of regular bread w/ oil & vinegar
-3 stuffed mushrooms w/ a pesto cream sauce
-glass of chianti
-water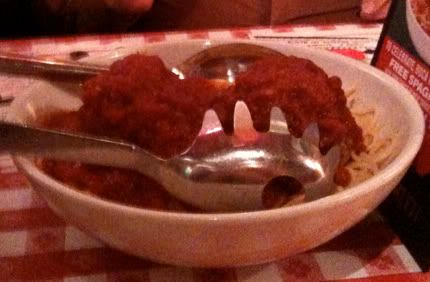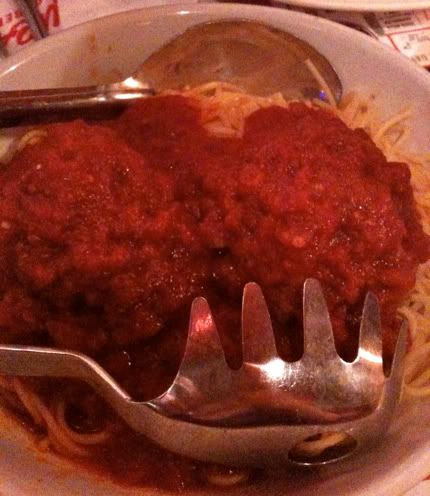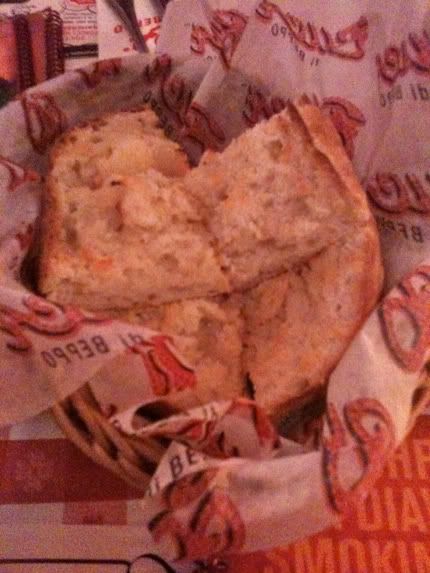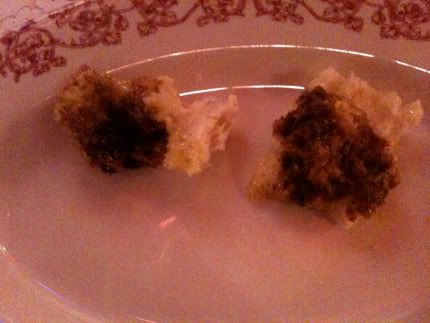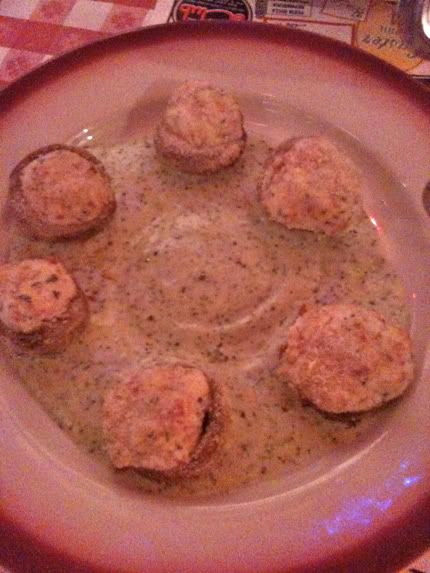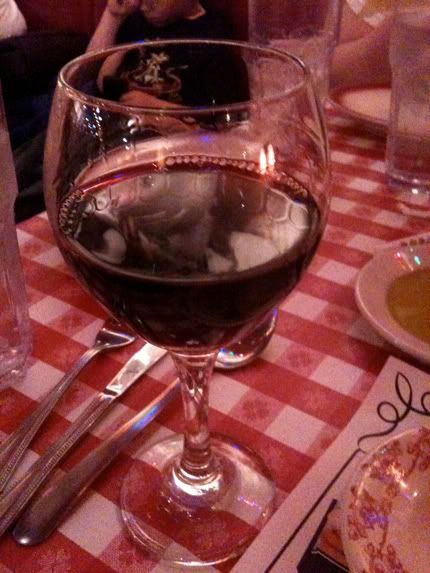 I was still pretty full from the beans when we first sat down, but obviously that didn't stop me from going to town. I remember from way back when the Buca garlic bread was served pizza-style in a deep-dish type pan and it was amazing. I always insist we get it, but this time it sucked. Why Buca? What changed? Ridiculous. Obviously I still ate my heart out, but it wasn't the same. Not worth it. I also had a headache and neckache (couldn't even move my neck back to look up without terrible pain...why does this keep happening?!), so why I chose wine, I don't know. I'm on a wine kick lately, but c'mon. I knew better, but when the waiter asked for our drink order I heard myself ordering it anyway lol.
BTW, those mushrooms were wayyy too heavy. Tasty enough to eat, but the filling was overpowering. But that's not my real complaint. OK 6 small mushrooms? $12.50. That's ridiculous. At least we had a $25 gift card, but still for one SMALL order of spaghetti with (only 2) meatballs, 6 small stuffed mushrooms, 1 small order of garlic bread, 1 glass of wine, and 1 italian sod, it came to $60 with tip ($35 out of pocket, $25 gift card). That seems really hefty to me, especially for a chain. That's $20/person for pasta, basically. Crazy. At least the pasta was good, but c'mon!
I guess we pay extra for the awesome scenary?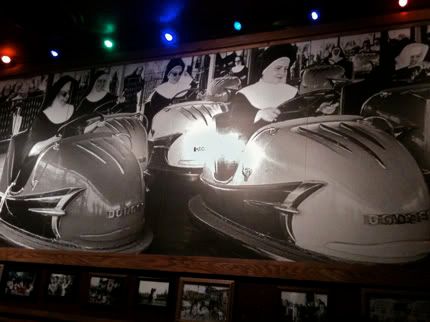 LOL. Nuns in bumper cars, aww yeah.
-lowfat vanilla ice cream cone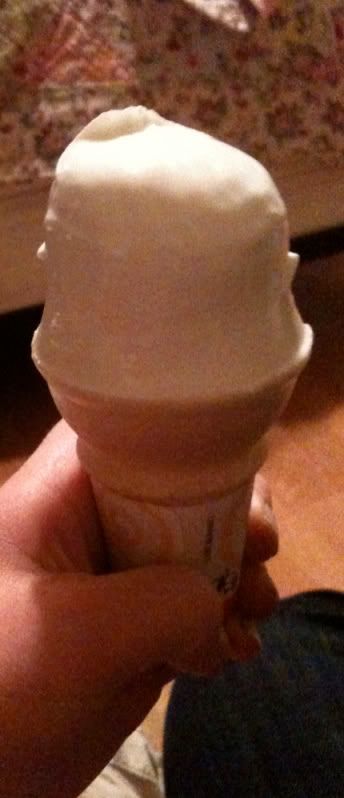 Oh, McDonalds. How could you? I had forgotten how amazingly delicious your ice cream is. For (approx.) only 150 cals to boot. Nevermind the fact that I was already insanely full (of carbs, no less). But man, oh man, I smell the rekindling of a love affair.
My parents and I watched a news show about kids with schizophrenia. It was so sad. Then, I went to bed. I'm so exciting these days, don't be jealous.
xo,
Amanda