February 15
In the car on the way to the gym (hey, I was hungry)
-4 mini waffles with a tiny drizzle of agave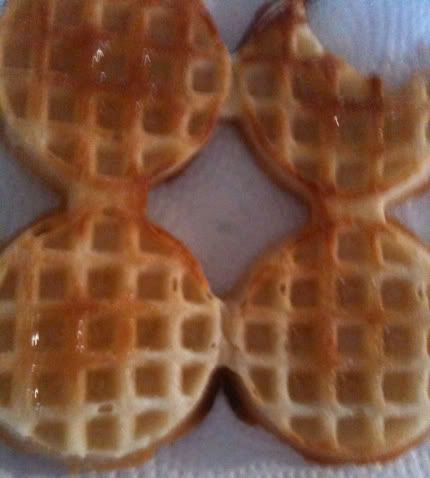 chomp
Post-gym
-2 hard boiled egg whites (2 lil bites of yolk)
-small scoop of cottage cheese
-leftover (about 2/3 of a serving) vanilla greek yogurt with sliced strawberries and a couple sprinkles of granola
-leftover breakfast potatoes w/ ketchup (white & sweet potatoes)
-6 oz of cranberry aloe vera juice
-"protein" shake (1.5 servings biggest loser protein powder, hazelnut milk, half a banana, ice)
-water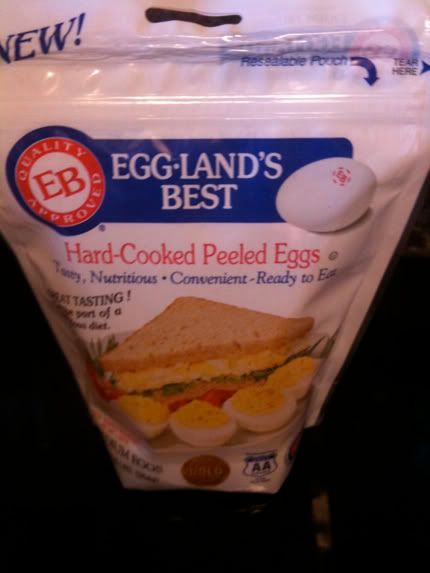 so easy!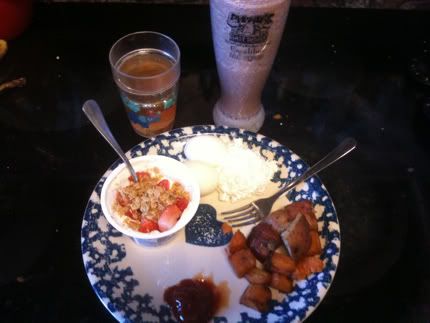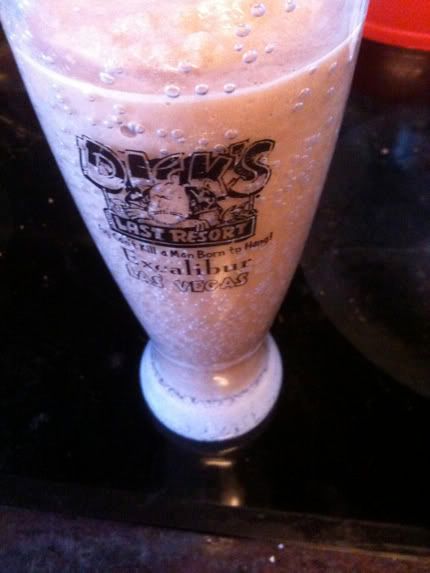 Yeah, pretty big breakfast. Everything protein-y just sounded good, what can I say?
AND. OK, so I bought the Biggest Loser protein powder the other day because it's only 50 cals/scoop and I was curious. UM. I failed to read that it had only 6 grams of protein. How dare they call it a protein powder. WTF. Biggest Loser is right, just not how they mean :-P. My yogurt has 14 a serving, come on! It tastes good, so I'll use it in oats and stuff like that, but I'm sticking to my old kind (26 grams/scoop) for post-workout shakes.
-half of a banana oatbran Kind bar (so-so. Thought it'd be amazing, but it was only good)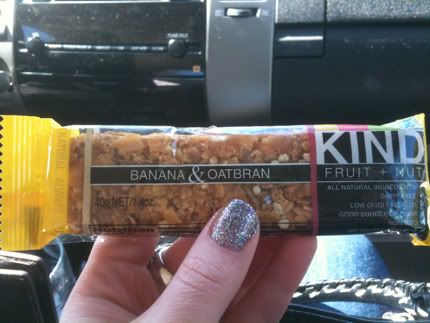 I was starving again before physical therapy only about 2-3 hours later. Ridic. Physical therapy sucked btw. I went at 2 pm, later than usual. Never again. SO crowded and uncomfortable. I know I always say that, but this was 2-3 times as bad. And I'm pretty sure all of the younger (prob my age) male assistants (or whatever they are) have seen and touched my ass by now when helping ice & electronically stimulate my back & shoulders. That's not awkward at all to have their hands all over my body under my shirt. :-P. And when I first got there there weren't any open beds, so instead of having my whole back and neck on heat, they just had me sit in a chair and have a heating pad (shaped like a neck brace) on my neck. 7ish down, 5ish to go. Just gotta keep counting down. I'm not in any less pain, so I'm curious how my final appointment will go. Hey, maybe I'll magically be cured by then, ya never know.
-6 inch club sub on honey oat with double the meat, cheddar cheese, lettuce, tomato, banana peppers, pickles, and mustard
-a few sips of iced tea
-water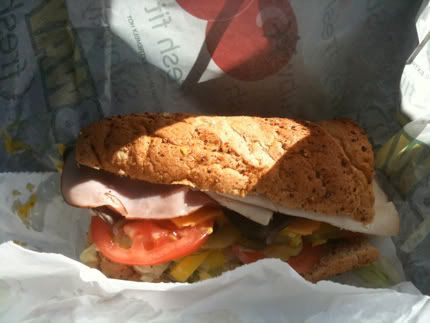 I know, double the meat on a sandwich that already comes with 3 meats is ridiculous, but 6 inches never fill me up! Honestly, I think he only doubled the turkey anyway from what I could tell, but that was fine. I didn't need all the bread of the footlong or unhealthy chips or cookies, so I went for it w/ the double meat. It worked. A little too well. Slightly too full even HOURS later and the bread made me feel a little blah, but man sometimes when you want Subway nothing else will do. Normally I'm not a fan, but I had the craving. It was between that or a drive thru, so the gluten, yeast, and nitrites won out due to the low(er) calorie count + protein count.
-Russell Stovers mini pack of candies (3)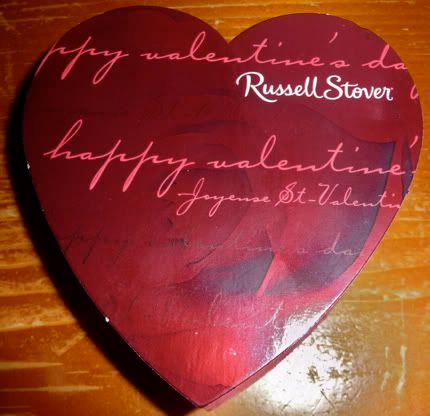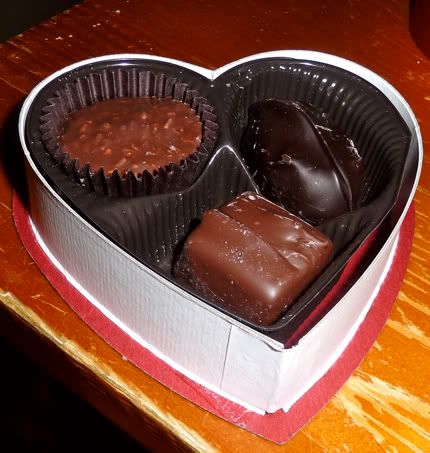 Yeah, I ate all 3. I thought the box came with 6 or so and I was only gonna have 1 or 2, but once I finished the second it just seemed wrong to leave the last one all by itself. Haha. Oh, 50% off Valentine's candy, my heart loves you so. I want one of the bigger boxes. Maybe tomorrow. Heh, like I need it. I wanted one medium-sized Russell Stovers box & one medium-sized box of Whitman's. They only had the mini boxes or the huge boxes of RS. Lame-o's. I'll check CVS and/or Walgreens tomorow. Maybe they'll be 75% off then??
-a bite of chicken fried steak
-a lil bit of beans
-a lil bit of taco meat mixed with sour cream & fritos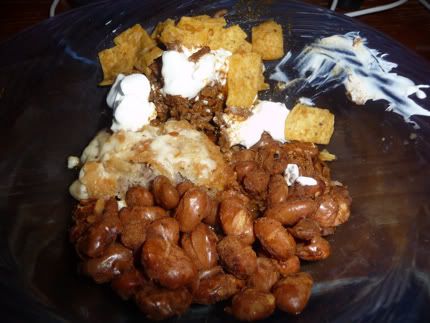 I wasn't really hungry, but ate anyway. It happens. I'll move on.
-spinach & mushrooms sauteed in a little soy sauce and splash of red wine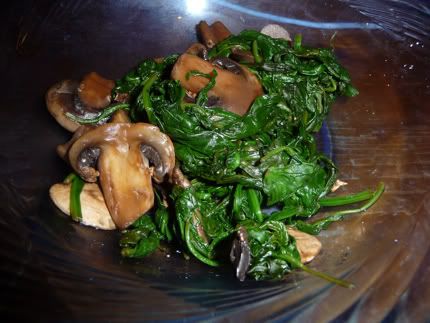 Bella Pic of the Day: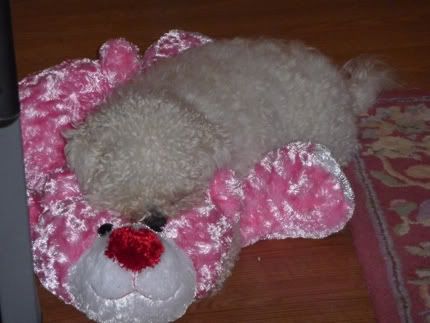 loving on her day-after-vday-present
Outfit of the Day: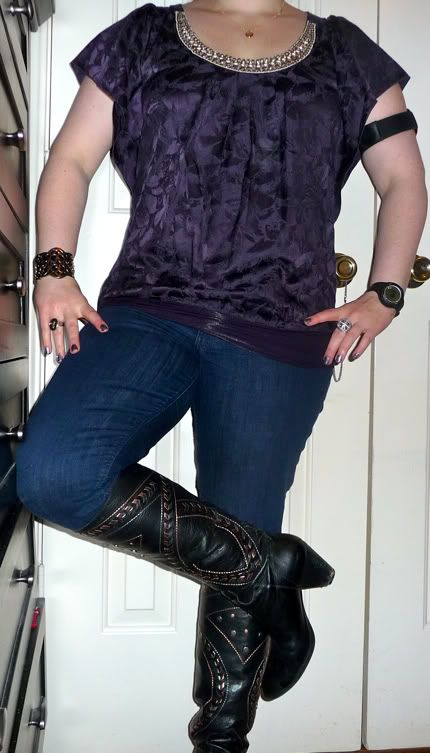 I'm going to buy a tripod soon so I can get the whole outfit without being headless LOL. Get used to the body bugg making its daily appearance :-P.
xo,
Amanda