February 4
Like mother like dogtaugher take two. Look how I found this little lady passed out late last nite.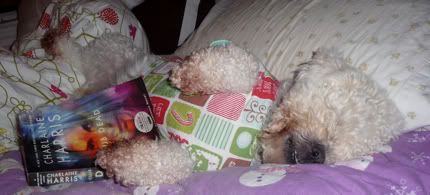 TOO CUTE.
I didn't have time + was too tired to eat before physical therapy today. It sucked as always and I left with a headache, but it only means 1 less session I have to go to in the future :-P. Luckily I packed my lunch last nite, so I tore into it in the car on the way to work. But first we stopped at the grocery store to pick up some sinus medicine and superbowl food. I picked up a small container of chicken salad & added that to my lunch at the last second. Love chicken with grapes.
-side salad (arugula, spinach, matchstick carrots, red cabbage, broccoli slaw, cashews, 100 calorie pack of guacamole)
-yakult probiotic drink
-small scoop of tarragon chicken salad w/ a few almond thins
-one light french onion laughing cow wedge w/ a few almond thins
-strawberries
-2 raw chocolate coconut balls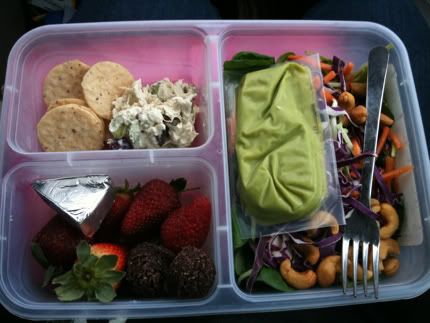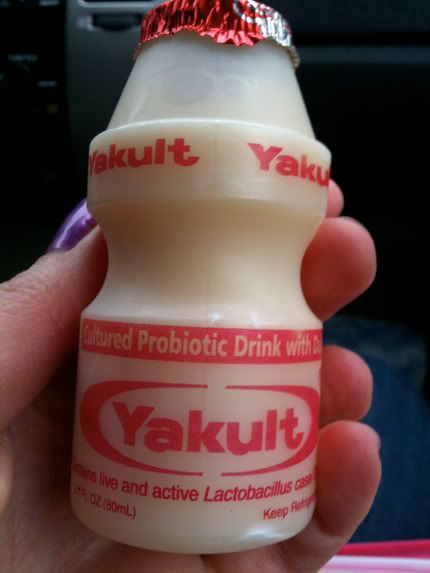 Huge lunch, but all healthy. And tasty.
-4 mini cadbury eggs (the solid chocolate ones)
-water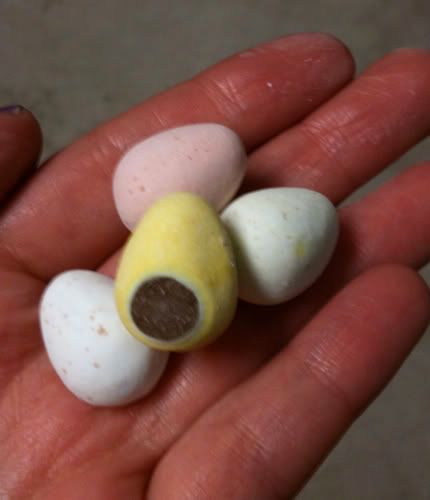 Darn office candy bowl.
-tiny sample of flavored popcorn (mine--the mixed fruit flavor + my brother's plain cherry)
-about 85% of a bottle of mexican coke (i.e. made with sugar, not corn syrup)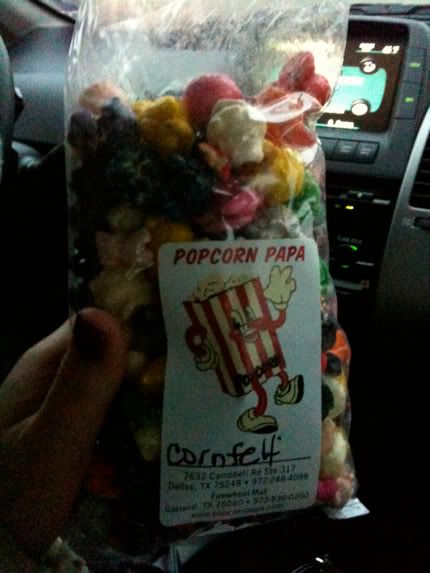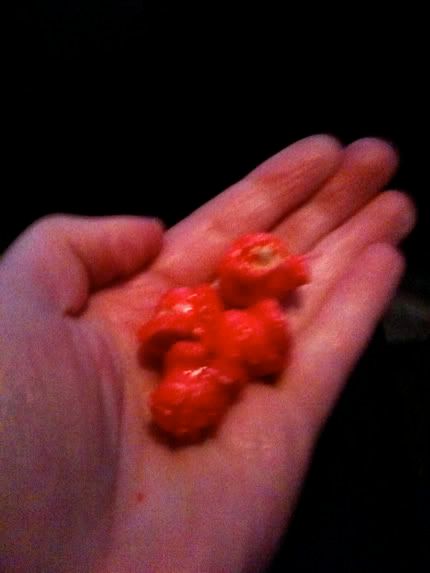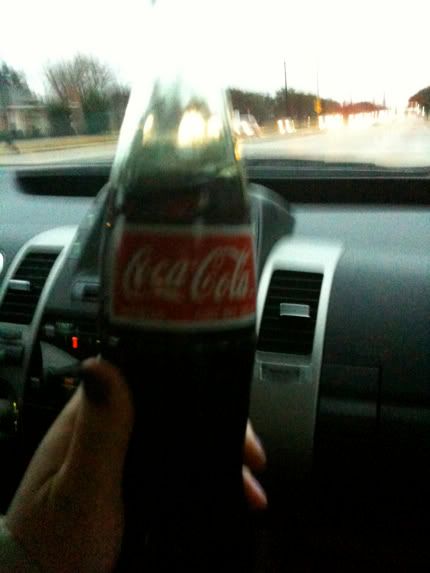 I know I rarely drink soda, but I love glass bottled drinks + no hfcs! Still not exactly healthy, heh. I justified it because I had a headache and thought the caffeine may lend a helping hand. LOL riiight.
-side garden salad w/ no croutons + oil and vinegar
-half of the smallest cheddar biscuit
-lobster w/ lemon juice and only a tiny bit of melted butter
-broccoli w/ lemon juice
-water
-glass of champagne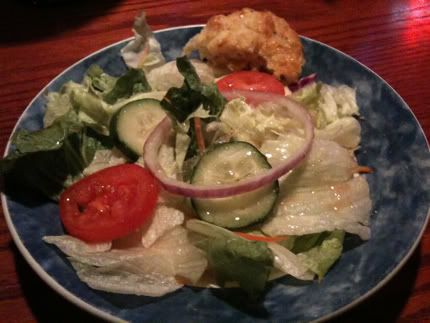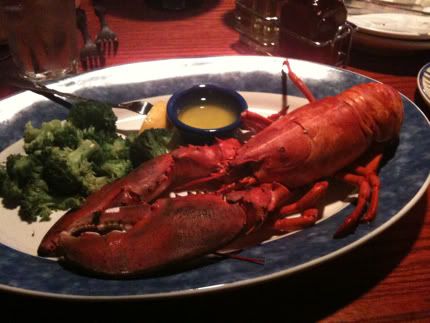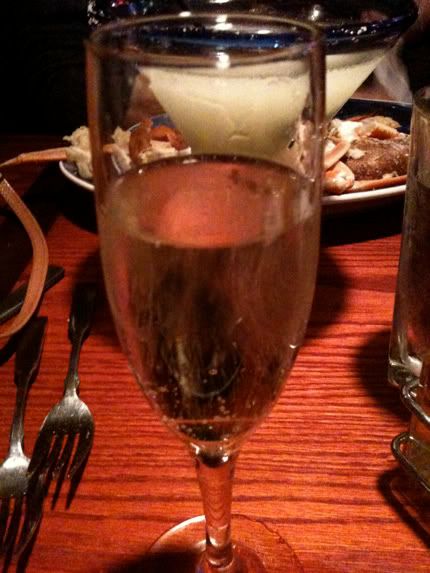 I wasn't going to have any alcohol, but I can't resist a little champagne!
Loves me some lobster! Great dinner. My Mom, brother, and I met my aunt for dinner at my brother's favorite, Red Lobster. Usually I get grilled fish, but I was in the mood for lobster or king crab legs, and surprisingly the lobster (of the same size) was a few bucks cheaper. Woohoo. It isn't very filling, but it's still worth it. According to Red Lobster's website, the entire 1.25 lb live lobster is only 45 calories. Insane. My brother tried to make me feel guilty while I ate, saying my food still looked alive and how could I eat something like that. Rude lol. As if he wasn't eating seafood himself :-P.
-small smoothie (strawberries, about 1/4 of a small banana, a few frozen peach slices, a lil simply orange juice, hemp seeds, ground flax, a small amount of chia seeds, half a scoop of protein powder)
I shared the smoothie with my Dad. It tasted like a multivitamin. Pretty chalky. Not sure the Jillian Michaels vanilla protein powder was meant for smoothies. Darn. Maybe it will be better mixed in food? I don't really like vanilla shakes plain, so *fingers crossed* Or maybe a vanilla protein cake? That's an idea.
I love that I'm still obsessed w/ veggies. Everytime I think about eating I just want to sit down to a big bowl of vegetables. I even wished I had more broccoli served with my dinner and I'm no longer a huge broccoli fan. I also had no problem substituting my baked potato for the broccoli. Usually at Red Lobster I not only go for the potato, but I also have it smothered in their lobster sauce, but today was green all the way, please.
One day the fitness part of my blog name will ring true and I'll have something to report there. :).
I thought today's package would help motivate that, but noooo. I got my order from 24 Hour Fitness and knew it was the body bugg. Well, sort of. Only the display screen came. The actual (pink) body bugg is apparently back ordered. UGH. And to top it off they gave no time limit for when it will be restocked. I'm super bummed. I e-mailed them, but they haven't responded yet. I hate when you order something and only after you pay, get excited, etc, they tell you it's back ordered. Lame.
And last but not least, my outfit of the day: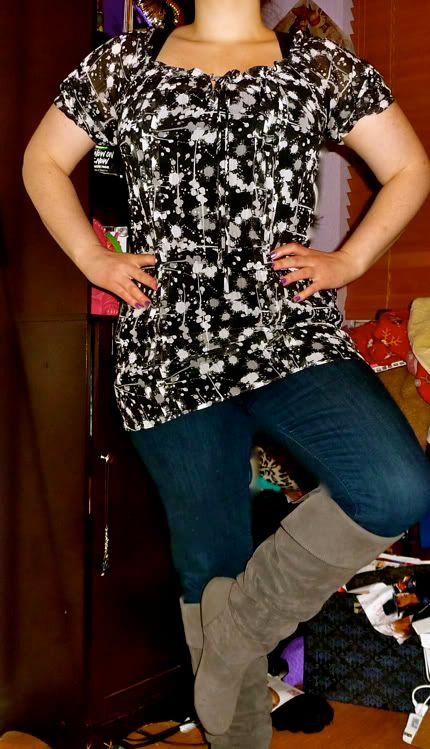 Miley Cyrus shirt :), Target tank, Hollister skinny jeans, Target flat boots. Please excuse the mess!
For some reason nothing I wear seems to photograph well! My camera is also being weird lately. Grr. The shirt has a little elastic band a few inches before the bottom where it's fitted, but it's loose and blousey otherwise. I also threw on the Anthro boyf blazer from yesterday when I was outside. Nothing special, but it's comfy and was good for doing PT in.
xo,
Amanda