February 11
-almond coconut Kind bar

Pre-gym snack. I wanted carbs and instead ate fat, but it was good. I woke up at 7:45 to go to the gym at 8, but my Dad was extra extra slow and we didn't even leave until 9:15. WTF? Another hour of sleep would have been nice. Annoying. Especially because he had a patient at 11 (late I know, but he stays 'til 8pm) so we only got to do a few exercises. 2 ab machines, a shoulder machine, + a shoulder exercise w/ free weights. When I got home I took the dogs on a walk. It's really snowy out, especially for Dallas. My dogs LOVE snow, especially Bella. They suck at walking together, so they each got about a 10 minute walk. I love watching dogs play in snow lol.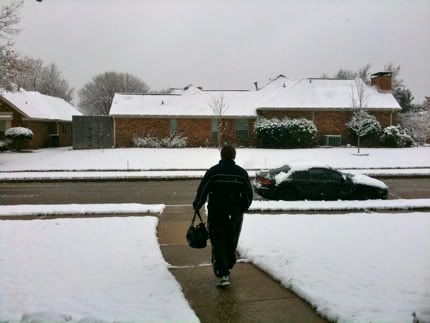 my Dad walking to the car w/ his gym bag. FINALLY!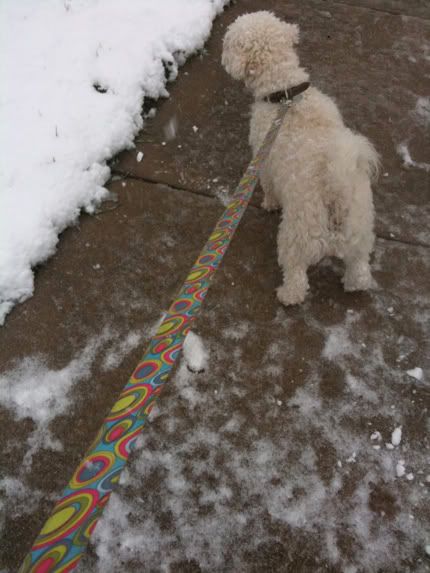 she was smiling until the flash went off LOL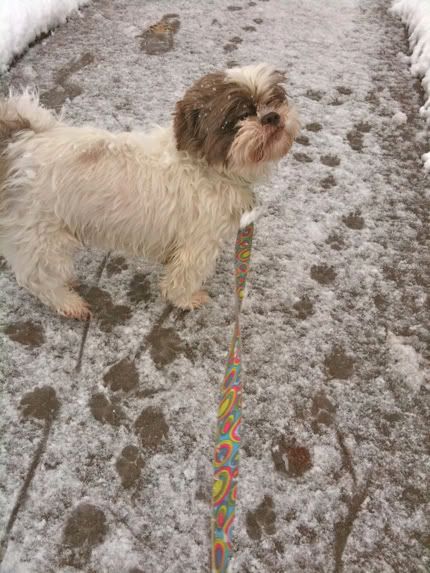 LOL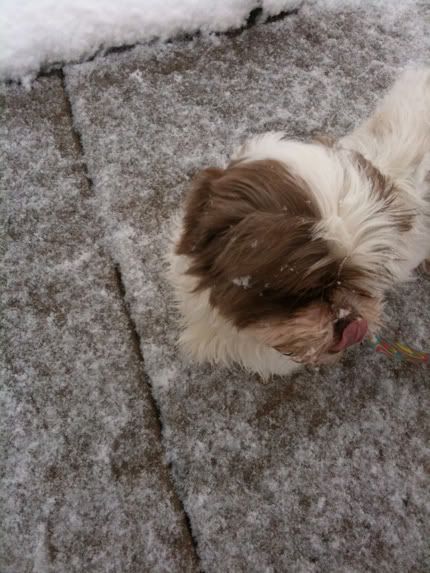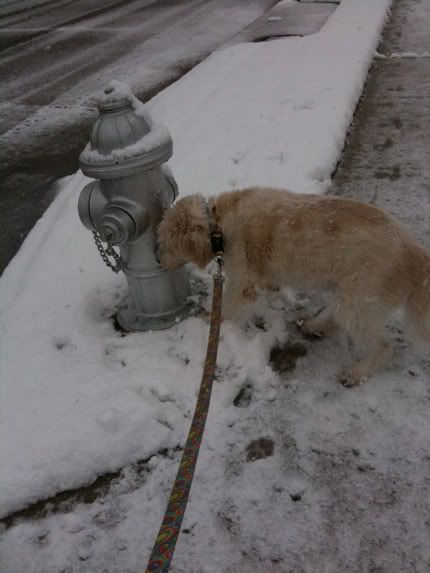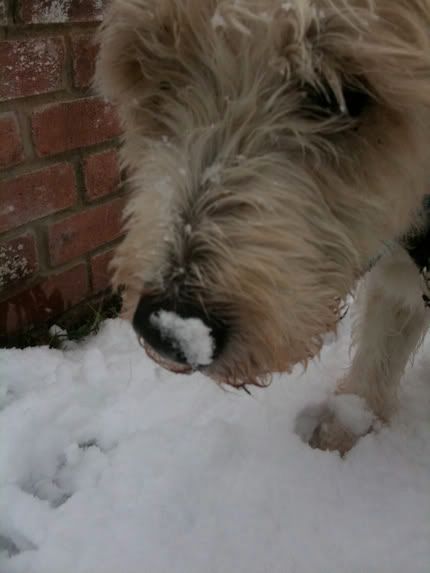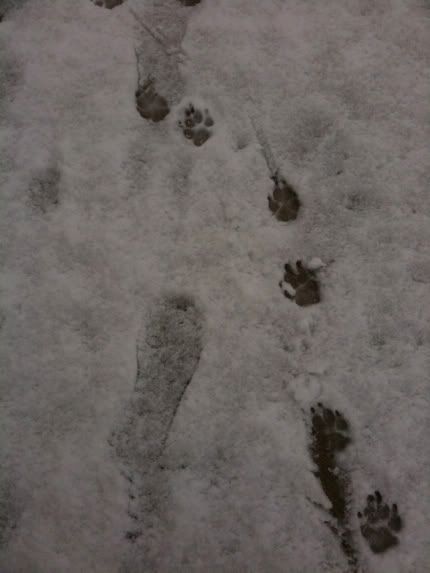 I was going to run on the treadmill a little, but when I came inside I was tracking snow all over via my dragging pants. Maybe I'll do the Jillian Michaels Wii game later. I was supposed to go with my Mom to babysit baby Kendyll, but my cousin took off work, so we took the day off. Looong weekend, hellz yeah :). Much needed/appreciated.
-protein shake (a little light chocolate soy milk, a little hazelnut milk, half a banana, half a scoop of protein powder)
-3 scrambled egg whites with greek seasoning
-4 mini waffles with apple butter
-reheated vanilla rooibos tea
-water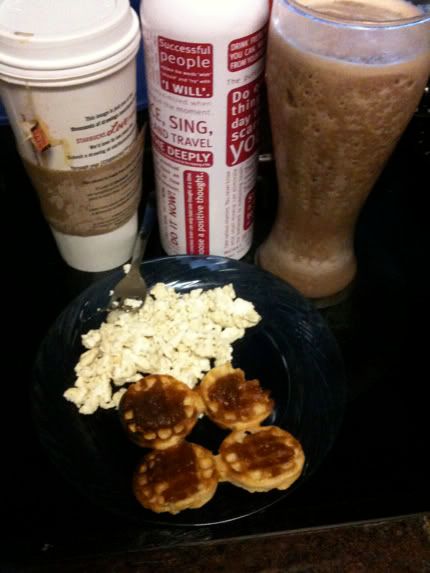 Leftover Superbowl food:
-buffalo chicken dip
-spinach artichoke dip
-chips
-2 wings
-1 slice of pizza w/ a few pieces of sausage
-water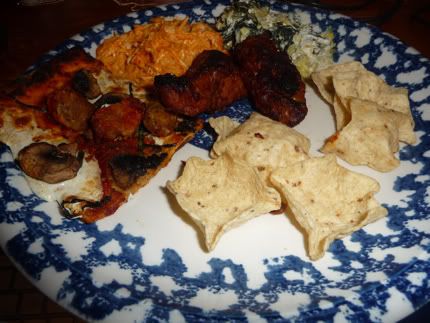 I took a nap (meant to be 10 minutes, but turned closer to an hour) and woke up pretty hungry. While deliberating what to eat, my Dad came home with a bag full of Arby's. Meh. Plus, he got a mixture of random crappy sandwiches. We all wanted roast beef, but had to split everything up.
-arby's small roast beef sandwich with arby's sauce (OK, but not the best)
-half of an arby's small chicken sandwich (blah)
-half of an arby's small ham & cheese sandwich (OK, but not the best)
-a few curly fries (luckily when I turned around for more my Mom and brother had taken them all :-P)
-half an orange
-the last handful of snickers popcorn
-last godiva truffle (boooo. so good)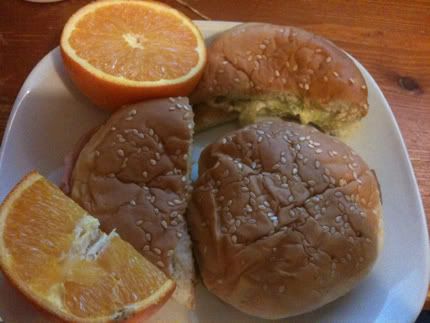 looks big, but they were small. that's all on a small salad plate. still not healthy tho lol.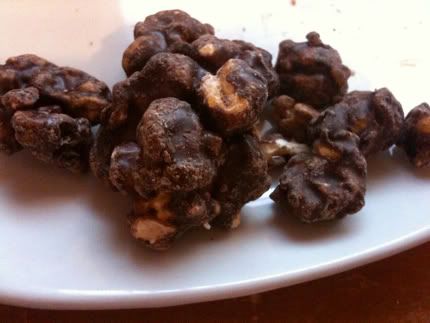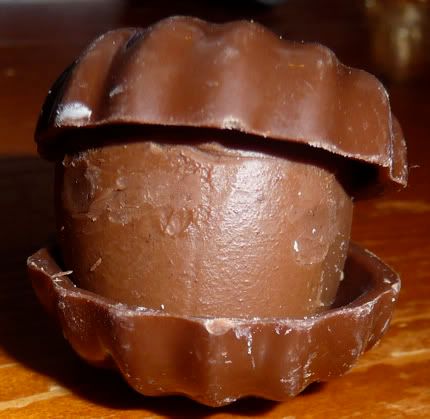 We didn't grocery shop this week and have crappy leftovers. I should have just had oatmeal or more egg whites, but....I didn't. It was supposedly too bad out to run up to the store, but I'm sure all the north easterners would laugh about that. Surely we have 3848494 healthier things, I was just protesting not being able to have what I really wanted to make (sloppy joes--we had everything but the buns). Of course, I was only hurting myself in the end anyway.
And no Wii game happened. I was thinking about doing it around 9, but didn't want to get myself riled up and not be able to sleep. I got tired around midnite, so that's good (for me!). Went to sleep around 1:15.