October 23
-indian veggie masala vegan burger on 2 slices of toasted sesame ezekiel bread with a lil organic ketchup (285 cals)
-lil side of pineapple and grapes (50 cals?)
-1/2 serving of sour cream & onion pop chips (60 cals)
-yogi chai redbush tea with a couple splashes of unsweetened vanilla almond milk (10 cals?)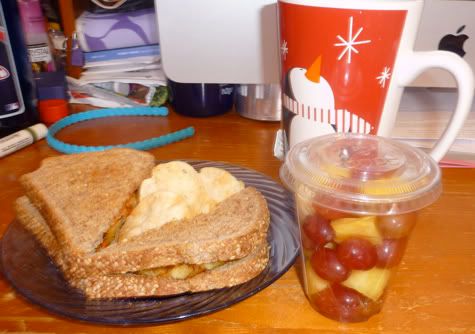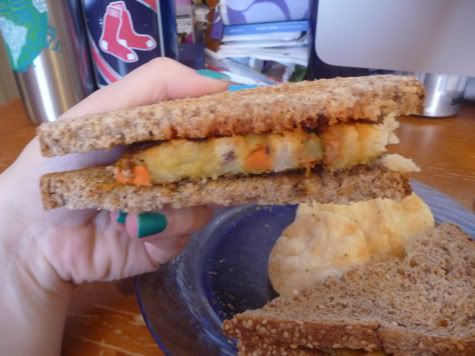 lol idk why my hands look so wrinkly, weird
Really good! I probably only needed one slice of bread (if any), but I didn't think of that 'til both were already toasting. Calling the masala patties a "burger" is a little far fetched, since they're more of a spiced vegetable potato patty, but it's still really tasty stuff. I just realized ALL of that was carbs though, oops. I guess the "burger" term had me thinking it was protein.
Needless to say, I got a slight hunger pang just under an hour later. I decided to hold off as long as I could.
About 30 minutes after that I caved and had a fun size Almond Joy (80 cals). I love these now for some reason. Baaad.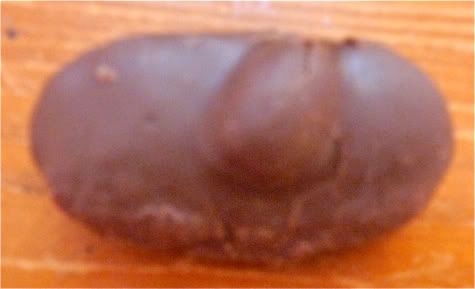 Instead of eating more I went on the treadmill *gasp* yes, me. I'm super slow (and have asthma), so I suck ass at it, but I tried. I did 15 min walking @ 3mph, 5 min @ 3.5 mph, & 5 min @ 3.5mph. My LoseIt iPhone app says I only burned 87 cals, but the treadmill said just shy of 200. I know machines are notorious for overexaggerating calorie burn. I'm hoping it was at least somewhere in between, but idk. I really need to get a body bugg. Maybe for X-Mas?
Before going to see Where the Wild Things Are I had 1/2 a peanut butter Think Thin bar (120 cals) & a small granny smith apple (60 cals?). & at the movie I had a few bites of one of those giant pickles. I thought I ate half, but when I looked at it after the lights on I barely put a dent in it. =-o. (10 cals?)
After the movie we went out to eat at this new place called
Vickery Park
. It was a pretty cool place. I had one of their nightly specials, lasagna (but made with penne, oddly) (600ish cals? Just guessing) and 2 strongbows (on draft!) (280 cals). I also had one onion ring, three fries, and one bite of breaded chicken. Everything was super delicious. I'll definitely be going back.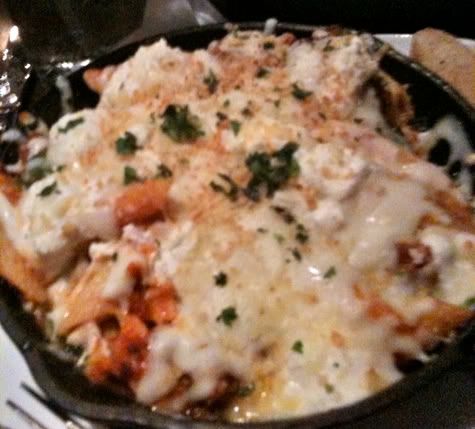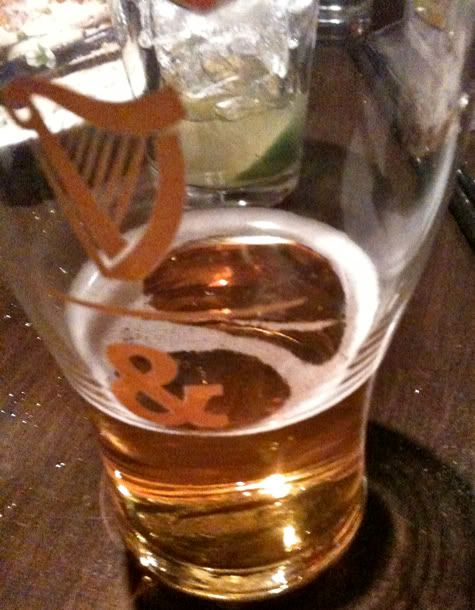 I just realized, again, that I had almost no protein today. Double oops.
I'm kind of hungry again, but it's after 2am, so I'll just make some hot tea and call it a nite.
xo,
Amanda