October 28
-small bowl of lean beef (and bean) chili with a dollop of light sour cream (275 cals?)
-flax seed tortilla chips (140 cals)
I slept in today (much needed-in fact, I wish I'd slept longer, but I digress), & went down to have a bowl of cereal, but my Mom had made chili. I intended to just have a sample, but went for a full bowl instead.
-tall soy latte (130 cals)
-tootsie pop (the blue ones are gross, fyi) (60 cals)
-water
-bare naked banana nut granola (straight out of bag) (140 cals)
-combination fried rice (500 cals?)
-1 cream cheese wonton (70 cals)
-plain frozen yogurt with strawberries (175 cals?)
-water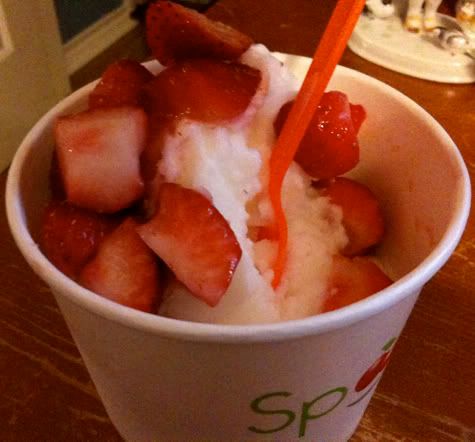 My Mom picked food up for herself and knew I had a stomachache, so she didn't bring me anything. I didn't feel like preparing my own dinner, so I just sampled part of hers. I wouldn't have chosen something so unhealthy for myself, but it got the job done.
-1/2 serving cheddar pop chips (60 cals)
-a few bites here and there (cereal, a few coconut m&ms, etc)
-huckleberry herbal tea
All evening I kept wanting to eat, but wasn't hungry. The acidity of the chili & coffee hurt my stomach all day, but once I ate the granola and rice I felt better, but still not terribly hungry. It was just one of those days where you can't stop thinking about food, nothing in particular sounds good, but at the same time everything sounds good, but you don't feel like you need to eat either. YKWIM? Hate that! Hopefully I can get sleepy enough to go to bed soon, so the food day stops there :-P

I had pics of everything, but my iPhoto froze while importing and my iPhone had already automatically deleted them all. Grrr. Not sure why the one photo was safe lol.

xo,
Amanda