September 7
1:00pm
-side of squash casserole
-half of a small slice of cornbread
-one bite of stuffing
-one small pluot
-water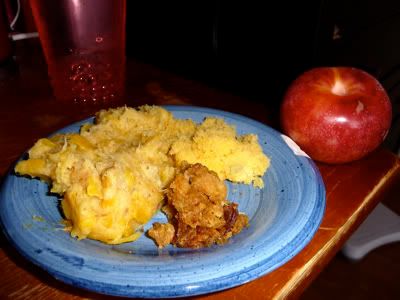 IDK why since it's not much, but it kept me STUFFED for hours
4:45pm
-spinach and artichoke dip with a few tortilla chips (5-10)
-one bite of crescent roll-crusted baked brie cheese
-one small (about 2-3 bite size) piece of garlic parmesan bread
-2 bottles of water
Drama-rama family bbq. My Aunt invited a bunch of us over for Labor Day and everyone confirmed, but only my side of the family showed up. Even my Dad, who usually works on Labor Day (he came home early for it). No surprise there (that no one else came, despite saying they would), but a lot of hurt feelings ensued because of it.
Great food tho :-P. I was still full when I ate this stuff, but my aunt wanted me to try it and it was really good, so I kept (slowly) sampling each thing until I really was hungry and then the actual dinner was ready.
5:45pm-ish
-steak (not sure how much, my aunt grilled GIANT steaks and we all shared. They were amazing)
-a few bites of grilled chicken (also amazing)
-potato salad (really good)
-grill beans (those new ones....you know the commercial "not baked beans....grill beans for when you grill!" or w/e they say lol idk, they're tasty)
-1 bottle of water
-3 glasses of iced tea
My aunt is seriously the best griller/bbqer
ever
. NOM NOM NOM. I forgot to take pics tho.
7:30pm-ish
-a few big bites of a gooey brownie
-watermelon
later...not sure when....9:00? maybe 9:30
-2 more bites of chicken
-3 or 4 more bites of steak
1:45am-ish
-a few strawberries
-a pluot
Sept 8
2:15pm-ish
-large fruit cup (random assortment of not quite ripe fruit....mango, young coconut, pineapple, honey dew, cantoloupe, watermelon, and cucumber from this place called
Fruit King
in the food court. This is my second time at that location and both times sucked. The other one is good tho)
-about 3/4 of a medium strawberry peach fruit chiller from
Frullati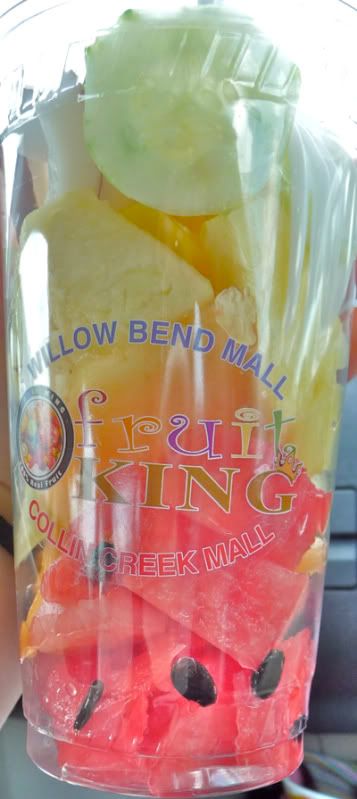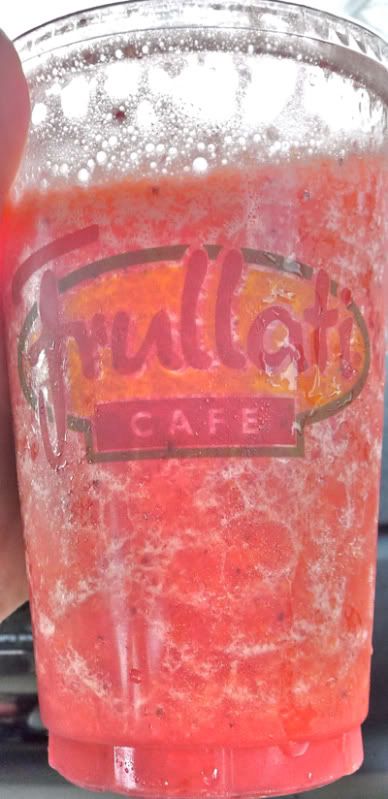 2:45pm-ish
-half of a veggie panini & a pickle spear from Frulatti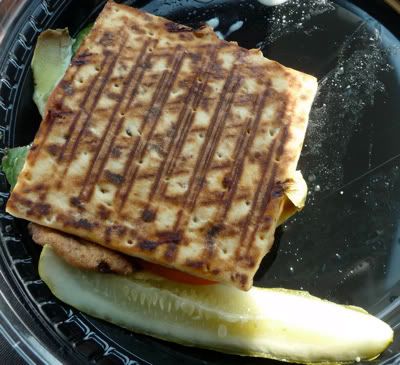 I got a stomachache about 30 or so min after eating all of that :(. took two digestive enzymes, which helped a little
between 3:30pm & 5:30pm
-lots of water before & after my massage (even tho I only get 20 min massages, I get SOO thirsty after)

6:45pm-ish
-single serving of ghiradelli dark chocolate (impulse buy at
Borders
. Really good and only 130 cals for the whole thing)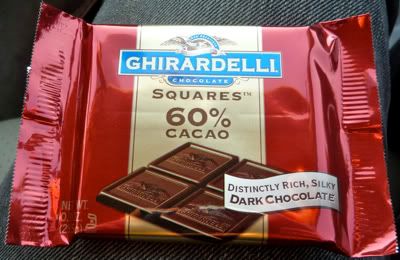 7:30pm-ish
-2 small bites of my Mom's Starbucks pumpkin cream cheese muffin (mmmm. Luckily they only had one left or I'm sure she would have got me one two and I'd have probably eaten it all. One of the best parts of Fall :))
7:45pm-ish
-skinny cow cookies & cream ice cream sandwich (had to eat it to make freezer room for new stuff lol)
-a few hot tamale candies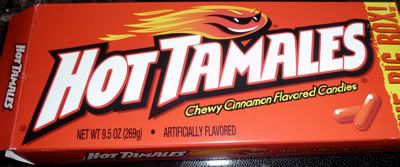 8:00pm-ish
-smart one's cheese pizza bites (I ate 3 of the 4 that come in one serving)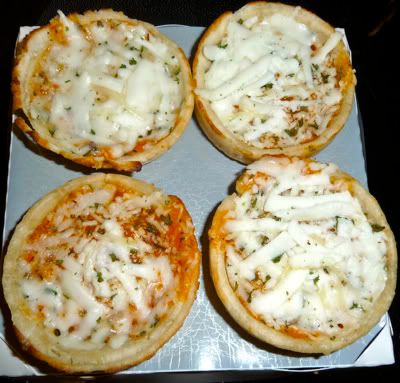 9:30pm-ish
-small bowl of spaghetti (my mom made it, I think it was hamburger helper...gross. made w/ extra lean beef, but still...yick. I was gonna originally have crispix cereal w/ skim milk and a banana or v8 broccoli soup, but this was already made and right in front of me and we can see I've been making bad choices lately....)
-grapefruit sparkling water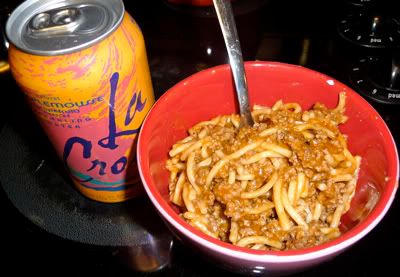 processed, much? *shame* :-P
ahhh, finally caught up. I think that took like 4 hours. Crazy!
xo,
Amanda